---
January 15, 2001 The Food and Drug Administration (FDA) is pointing the finger at the latest threat to public health -- artificial fingernails. Turns out they carry a risk of everything from fungal infection to allergies and even burns due to their increased flammability.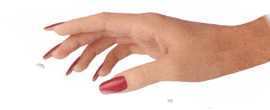 Writing in the November issue of Contemporary Pediatrics, Dr. Anne T. Nucci, a pediatrician at Bronx-Lebanon Hospital Center in New York ticked off a list of complications that commonly result.

They included the expected -- infection, dermatitis, disrupted nail growth -- and the unexpected, such as a teenager who suffered second-degree burns when her acrylic nails melted down and caught fire as she removed a pot from a gas stove.

"I have bigger battles to fight, such as smoking and protection against sexually transmitted diseases," Nucci admitted in a Newsday interview. "But if you're picking your battles, it's worth a mention."

Problems aren't limited to teenagers. Dermatologists say that infection among middle-aged women who use the acrylic nails is extremely common, especially among those who keep the nails on for a long period of time.

The problem sometimes isn't the nails themselves but the glues and glue removers, which often contain toxic substances. Infections can also be caused by manicuring instruments that are not properly sterilized.

The nails represent a particular hazard among doctors, nurses and other health care workers. A study last year found that artificial nails were more likely to harbor fungi and bacteria that could be transmitted to patients.

Here are some tips from the FDA:
Have one nail done first. Wait a few days to see if a reaction develops before doing the rest.
Never apply an artificial nail if your natural nail or skin is irritated.
If an artificial nail separates from the nail beneath it, dip the fingertip into rubbing alcohol before reattaching the artificial nail.
Never use household glue to make repairs to yours nails.
Don't wear artificial nails for more than three months at a time. Allow one month for your natural nails to "rest."
Check out your nail salon. Is it clean, neat and licensed? The license should be prominently posted.
Are the nail technicians licensed? Do they sterilize instruments properly (20 minutes immersion in a disinfectant is the minimum). Do they wash their hands between clients?