---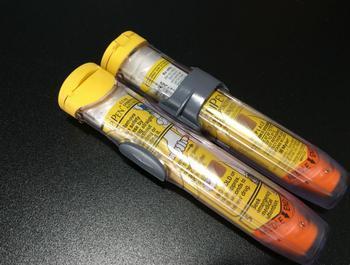 Like a quick dose of adrenaline, Mylan NV is administering increases in its financial aid program for some users of its EpiPen emergency allergy treatment, hoping to stave off criticism from Hillary Clinton and other political leaders.  
The $600 epinephrine auto-injectors are used to counteract the life-threatening anaphylactic shock that can result from severe allergic reactions. The price of the devices has increased from as little as $57 in 2007, when Mylan bought the EpiPen business, to more than $600 today, even though the device contains only about $1 worth of epinephrine. 
The company said it would increase eligibility standards for its patient assistance program to 400% of the poverty level, meaning that a family of four making $97,200 would have no out-of-pocket expense for the injector.
Savings card
Mylan also said it would increase the assistance on its savings card to as much as $300, up from its current $100. The result would be that many patients with commercial insurance would face little or no copay. 
But critics said the savings cards are little more than a public relations gimmick that actually help few patients. 
"These don't actually do anything about the price itself, because the high price is still being paid by the insurer, which then ends up being reflected in increasing premiums," Harvard Medical School professor Aaron Kesselheim said in a Washington Post report. "This is not a public health solution."
Whether Mylan's actions will quell critics remains to be seen. Congressional response quieted somewhat when it was revealed that Mylan's CEO, Heather Bresch, is the daughter of Sen. Joe Manchin (D-W.Va.). That didn't carry much weight with Clinton, however, whose relations with Manchin have been strained because of conflicting views regarding the coal industry.
"[I]t's just the latest troubling example of a company taking advantage of its consumers. I believe that our pharmaceutical and biotech industries can be an incredible source of American innovation, giving us revolutionary treatments for debilitating diseases. But it's wrong when drug companies put profits ahead of patients, raising prices without justifying the value behind them," Clinton said Wednesday as she called on Mylan to roll back EpiPen prices.
Pinning blame
Mylan seemed to blame everyone but itself for the price increase.
"Patients deserve increased price transparency and affordable care, particularly as the system shifts significant costs to them," the company said in a statement. "All involved must also take steps to help meaningfully address the U.S. healthcare crisis, and we are committed to do our part to drive change in collaboration with policymakers, payors, patients and healthcare professionals."
Also weighing in on the issue was the First Lady of New York City, Chirlane McCray. In a Washington Post op-ed, she called the company's actions "unconscionable."
"Allergies run in families. How can a financially strapped family possibly manage if more than one member has a severe allergy? Where households suffer a shared affliction that threatens breathing and blood circulation, Mylan sees only dollar signs," wrote McCray, who said she and her daughter suffer from a tree nut allergy 
---