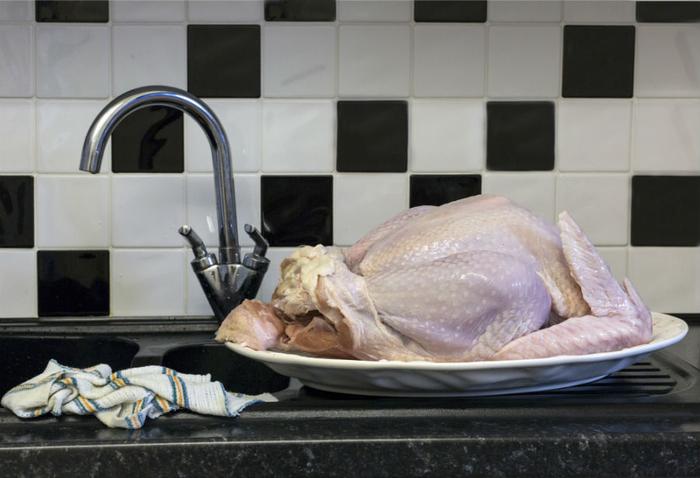 At least 17 people in four states have suffered from Salmonella infections linked to kosher chicken, the Centers for Disease Control and Prevention (CDC) said on Wednesday.
Eight people were hospitalized for their symptoms and one person in New York has died. Of those sickened, one is from Maryland, eleven are from New York, four are from Pennsylvania, and one is from Virginia.
The CDC said 14 of the people it interviewed who became ill reported having eaten Empire-brand Kosher chicken prior to becoming sick. Investigators found the Salmonella strain in samples of raw chicken from two different facilities. One of the facilities was processing Empire Kosher chicken.
The raw chicken items were produced and sold to consumers from September 2017 to June 2018. Illness onset dates ranged from September 2017 to June 2018, health officials said.
On August 24, the U.S. Department of Agriculture's Food Safety and Inspection Service (FSIS) issued a health alert about Empire Kosher brand raw chicken items "out of an abundance of caution."
"FSIS is concerned that some product may be frozen and in consumers' freezers. Consumers who have purchased these products are urged to properly handle, prepare, and cook these raw chicken products," the agency said at the time.
Safe handling precautions
The CDC said in its announcement that it is "not advising that people avoid eating kosher chicken or Empire Kosher brand chicken." The agency has not ordered a recall of Empire Kosher chicken. Instead, it is urging consumers to follow certain safety precautions when handling and preparing raw chicken.
Safe handling practices include washing hands before and after touching raw chicken and washing utensils and surfaces where raw chicken was prepared. Chicken should also be cooked until its internal temperature reaches at least 165 degrees Fahrenheit.
In a statement, Empire said that it is "shocked and saddened to have just learned there may have been a death potentially related to a Salmonella outbreak and we extend our sympathies to anyone affected."
The company noted that it has "no data that connects this tragic event to our products" but that it is fully cooperating with the FSIS and CDC investigations.