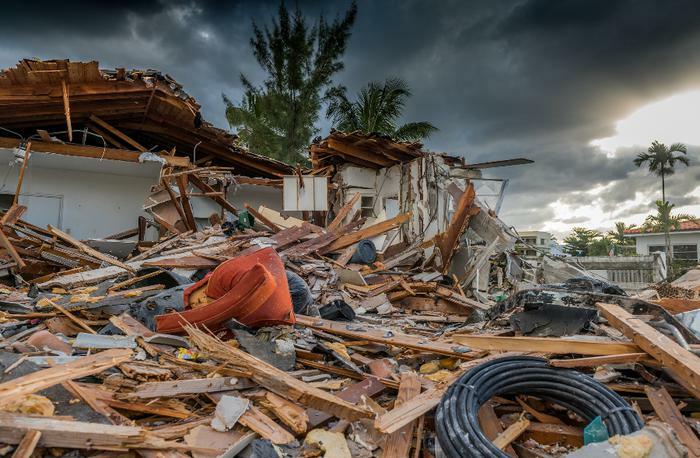 Earlier this month, Tropical Storm Elsa made its way up the East Coast of the U.S. to devastating effect. The storm produced heavy rainfall and intense winds, and early estimates project that it will lead to $290 million in insured losses based on damage done to residential, commercial, and industrial properties and vehicles.
In the aftermath, consumers who live in states that are frequently ravaged by hurricanes may be considering moving to a new area to put them out of harm's way. But a recent analysis of review-based data at ConsumerAffairs suggests that doing so may not reduce your overall risk.
Data researcher James Li recently conducted a word frequency analysis of ConsumerAffairs reviews that mention natural disasters like hurricanes, earthquakes, floods, and tornadoes, among others. He found that moving to an area to avoid one natural disaster may very well increase your chances of being affected by another one of a different type.
"The main point here is that no matter where you decide to move to avoid the specific natural disaster of hurricanes, you will almost always be at risk for a different natural disaster," he said. 
Trading one natural disaster for another
Li points out that residents living in coastal areas tend to be more concerned with hurricanes -- and for good reason. Consumers living in coastal states were 1.7 times more likely to use the word "hurricane" in reviews left at ConsumerAffairs when compared to the national average. 
Florida led the way with the most mentions, at 4.7 times above the national average. It was followed by North Carolina (2.7), Hawaii (2.6), New Hampshire (2.2), Louisiana (2.2), South Carolina (1.6), New Jersey (1.5), and Texas (1.4). However, Li says moving away from these states could potentially lead to a whole host of other problems. 
He cites California as a prime example. Although consumers submitting reviews from that state mentioned the word "hurricane" at 0.1 times the national average, the word "earthquake" was mentioned 4 times more often than the national average, and "wildfire" was used 2 times more often. 
Further inland, consumers in Nevada and Illinois mentioned the word "hurricane" just as often as those living in California. However, they mentioned terms like "earthquake" and "flooding" 5.7 times and 2.2 times more often, respectively.
Protect yourself and your home
Since moving to any state in the U.S. will increase your risk for some kind of natural disaster, what should consumers do? Li says the best option is to make sure you're protecting your home and your property with available insurance options. 
"In most circumstances, it is simply not worth uprooting one's life in a community solely out of concern for a natural disaster. Moreover, it is difficult to completely avoid being at risk for natural disasters," he stated.
"Except in the most extreme circumstances, when a home is constantly damaged by natural disasters, the optimal route would instead be to ensure that one's home is properly insured against damage caused by natural disasters. On a fundamental level, insurance for one's home is designed to spread the risk of a sudden, one-time financial hit into smaller, more predictable payments over time," he added.
Consumers who want to learn more about the best home insurance options should check out ConsumerAffairs' guide here.