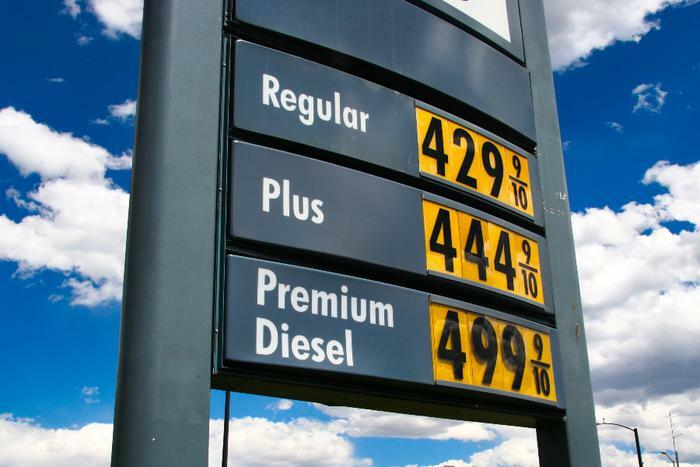 Even though oil prices have pulled back from their recent high, gasoline prices are still catching up. That's causing motorists everywhere to suffer sticker shock at the gas pump this week.
With most Russian oil finding no buyers because of that country's war against Ukraine, fuel prices have yet to find a top. AAA reports that the national average price of regular gas today is $4.33 a gallon, up 50 cents from last Friday.
The average price of premium gas is $4.95 a gallon, 57 cents a gallon higher than a week ago. The average price of diesel fuel has risen even faster, with the average price now sitting at $5.13 a gallon, up 87 cents over the last seven days.
While every state saw double-digit increases in average gas prices, in some states the move was stunning. The statewide average increased by 65 cents a gallon in Arizona, 62 cents a gallon in California, and 50 cents a gallon in Alaska.
New survey data from AAA shows that two-thirds of Americans believed gas prices were too expensive just a few weeks ago at $3.53 per gallon. With the national average at an all-time high, AAA says Americans may have reached a tipping point. 
Patrick DeHaan, head of petroleum analysis at GasBuddy, reported on Monday that demand had fallen sharply – as much as 11%. He said it was too early to tell whether the sharp increase in prices was destroying demand.
States with the most expensive gas
These states currently have the highest prices for regular gas, according to AAA:
California ($5.69)   

Nevada ($4.87)  

Hawaii ($4.81)      

Oregon ($4.72)  

Washington ($4.70)      

Alaska ($4.68)   

Illinois ($4.57)   

Arizona ($4.55)      

Connecticut ($4.48)   

New York ($4.47) 
States with the cheapest gas
AAA reports that these states currently have the lowest prices for regular gas:
Kansas ($3.82)

Oklahoma ($3.85)

Missouri ($3.85)

North Dakota ($3.89)

Arkansas ($3.90)

Nebraska ($3.91)

Iowa ($3.92)

Colorado ($3.95)

South Dakota ($3.95)   

Minnesota ($3.96)