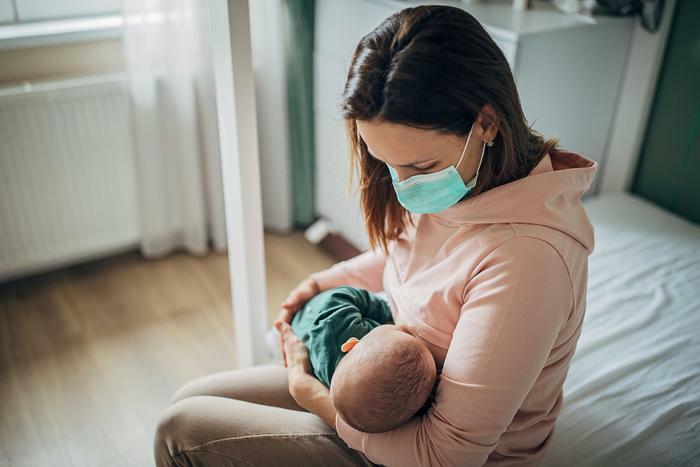 Recent studies have analyzed the impact of COVID-19 on pregnant women and their babies, and now a new study is exploring the risks of infection before, during, and after childbirth. According to the findings, it's possible for an infection to be passed between mothers and newborns, but the risk is pretty low.
"Ours is the first study to use the World Health Organization's stringent methods to show that it is possible for the virus to be spread from the mother to baby while in the womb, during childbirth, and after delivery," said researcher Shakila Thangaratinam. "However, parents and health care professionals can be reassured that only a very small proportion of babies born to mothers with SARS-CoV-2 test positive. This implies that the risks of infection to such babies are rare.
"Mothers should also be reassured about the low risk of viral transmission through vaginal birth, skin-to-skin contact, and breastfeeding – all of which should be encouraged." 
Infants are likely to be healthy
For the study, the researchers analyzed data on more than 14,000 babies born to mothers with COVID-19. The team tracked the infants' health outcomes and evaluated what role different delivery methods and mothers' care habits played in infants' well-being. 
Overall, less than 2% of the infants born to mothers with COVID-19 tested positive for the virus. The researchers learned that infants were more likely to contract the virus when their mothers tested positive after giving birth or when their mothers had severe cases of the virus. 
The researchers found that different forms of delivery or choosing to breastfeed didn't play a role in the likelihood of infants getting sick. The study showed that infants weren't more likely to test positive for COVID-19 when their mothers had vaginal deliveries or breastfed. 
The researchers hope these findings highlight the COVID-19 risks present between mothers and their infants. They explained that promoting COVID-19 vaccines to more pregnant women will help lower the risk of severe infection, and it's also important to closely monitor the infection of infants who test positive in the early days of life.