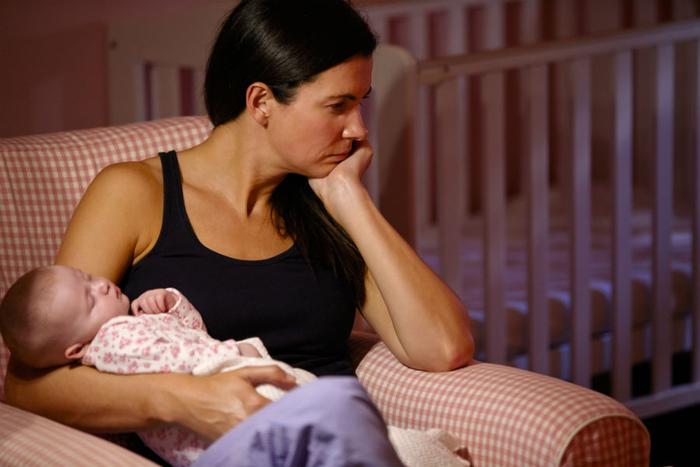 Most recent mothers are flooded with articles and information about postpartum depression, but a new study links depressive symptoms with mothers own personal histories.
According to researchers from University College London, women who have struggled with body image issues or eating disorders before pregnancy -- even as far back as childhood -- are at a greater risk of developing depression during pregnancy and after having children.
"We found that women who have had an eating disorder at any point before childbirth, even if it was years earlier during adolescence, were more likely to experience depressive symptoms during pregnancy and up to 18 years after the birth of their child," said researcher Dr. Francesca Solmi. "This finding suggests that many people with eating disorders might not fully recover since we know that eating disorders and depression often happen at the same time."
Finding the link
To see how an eating disorder could affect later depression, the researchers looked at data from over 9,200 women who participated in the Avon Longitudinal Study of  Parents and Children, monitoring the women from their 18th week of pregnancy until their child was 18 years old.
According to Dr. Solmi, it's important to uncover the links and gain a better understanding of the risk factors, as "depressive symptoms in mothers have been shown to be associated with a number of negative outcomes for their children."
"It is therefore important to identify and treat eating disorders early, as these could be one potential cause of the depressive symptoms," Dr. Solmi said.
Compared with those who had no history of an eating disorder, the women who had experienced either anorexia, bulimia, or both were more likely to have depressive symptoms both during pregnancy and after childbirth. At the 18-year follow-up, the depression symptoms were still prevalent in the women who had had eating disorders.
The study also revealed that the women who struggled with body image or their diet during pregnancy -- regardless of past experience with eating disorders -- were more likely to have depressive symptoms.
The researchers hope that medical professionals get the training and the tools required to not only detect eating disorders during pregnancy, but also help women who may be struggling with their mental health both during pregnancy and after they give birth.
"There's a lot of stigma around both depression and eating disorders, so many people might not feel comfortable talking about it or seeking help," said researcher Yu Wei Chua. "Assessment of mental illness in pregnancy, as standard practice, could help health professionals pick up on signs of depression and/or eating disorders at this crucial stage of life."
Knowing the risks
While most studies don't delve deeper to look at how mothers' own history can affect their mental health, there are several risks associated with postpartum depression that are important for new mothers to be aware of.
Researchers have found that mothers who have fussy babies or who aren't getting enough natural light could be at an increased risk of postpartum depression.
However, researchers have discovered a fruit-based supplement regimen that could help combat feelings of depression in the first days after giving birth.