---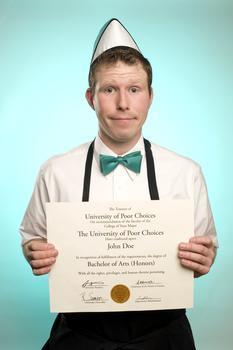 A discussion of whether an increasingly expensive college education is worth the cost usually notes that over a career, a college-educated person will earn significantly more than someone with only a high school diploma.
While that may be true, it doesn't always start out that way.
About half of the graduating class of 2014 has already found gainful employment. But a survey by jobs site CareerBuilder.com has found about half of those people are working in jobs that do not require a college degree.
Still looking
The survey found that 31% are not working at all, while 4% are in internships and 12% are working at temp jobs. Only 51% of those currently working said their position was related to their college major.
There's nothing wrong with starting at the bottom and working your way up – as long as you aren't carrying a massive student loan balance. In some cases, the first post graduation jobs is simply stop-gap employment – on the way to something better.
Rosemary Haefner, vice president of human resources for CareerBuilder, says it appears many of the graduates with jobs are simply trying to support the completion of their next degree.
"The first six months after graduation marks a major transition that can take many forms, but for the Class of 2014, the emphasis is less on finding the dream job out-of-the-gate and more on furthering one's education," she said. "The wage premium for attaining a graduate or professional degree has always been high, and this generation clearly understands the promising employment opportunities rewarded to the most-educated workers."
Most likely to be working
Recent graduates most likely to be working at a full-time job tend to be female and to have majored in health care or science, technology, engineering and math (STEM) fields. Graduates who are carrying student loan debt are slightly more likely to be working full time, compared to those who are debt-free.
Graduates who performed internships during their college days are significantly more likely to be working in some kind of job that those who did not – suggesting the importance of doing an internship before, not after graduation.
Show me the money
Motivation also seems to be a factor. Graduates who say they "want to make a lot of money" are more likely to be working full time than those who say their main goal is "to make a difference."
It might not be surprising that 32% of graduates said the extended time it will take to pay off student loans is their biggest fear after graduation. What they have to pay off, of course, varies.
Eighteen percent of recent graduates said they have student loan debt of at least $50,000, while 40% have loans totaling less than $50,000.
In a bit of good news, the survey shows 42% graduated with no student loan debt.
That all plays into the question of whether a college education is worth it. Most graduates think it is, with 87% saying they have no regrets about their college major.
"There was feeling among college graduates during and after the recession that their pursuit wasn't worth the investment, but fortunately this class has a very optimistic outlook," said Haefner. "The job market is on the rebound, and a majority of companies are again recruiting college grads."
Thanks
Keep an eye on your inbox, the lastest consumer news is on it's way!
Unsubscribe easily whenever you want
---