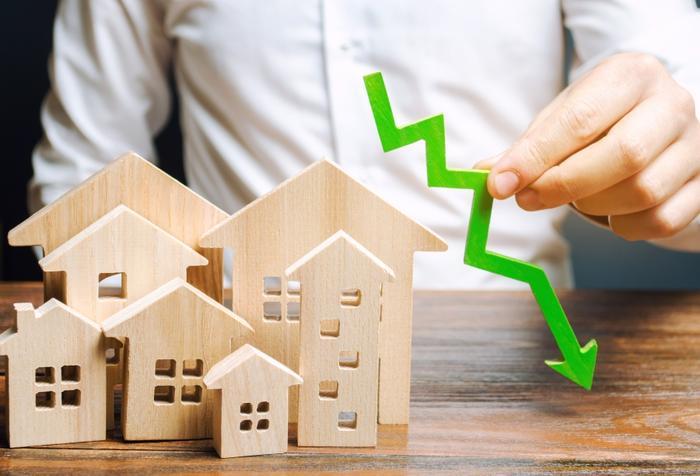 Photo (c) Andrii Yalanskyi - Getty Images
Thanks to a significant drop in the 10-year Treasury bond yield, the average mortgage rate also fell over the last seven days, making a home mortgage slightly more affordable.
The Mortgage Bankers Association (MBA) reports the average contract interest rate for 30-year fixed-rate mortgages with conforming loan balances ($726,200 or less) decreased to 6.23% from 6.42%. The rate on more expensive homes is even lower. The average rate on a 30-year fixed-rate mortgage with jumbo loan balances (greater than $726,200) decreased to 6.08%.
The average rate on FHA loans, often used by first-time buyers, dropped 13 basis points in the last week to 6.26%. While those rates are much higher than they were a year ago, they're down from October's highs when the rate went over 7%.
If you think that falling rates may be a signal to start house-hunting again, you aren't alone. MBA says lenders had a busy week.
"Mortgage application activity rebounded strongly in the first full week of January, with both refinance and purchase activity increasing by double-digit percentages compared to last week, which included the New Year's holiday observance," said Mike Fratantoni, MBA's senior vice president and chief economist. 
But despite those gains, Fratantoni says refinance activity remains more than 80% below last year's pace because anyone considering refinancing their mortgage probably did so last year when rates were around 3%.

Builders are offering rate buy-downs
Still, those interested in buying may find the trend encouraging. If the average mortgage rate falls to 6% it would save a buyer $237 a month on a monthly payment, compared to October's high.
People buying new homes are finding they can save even more. Many home builders are "buying down" the mortgage rate by as much as 2% to entice buyers. In November, the National Association of Home Builders said a survey of builders showed 59% of builders were offering incentives, a significant increase from September.
Specifically, 25% of builders reported paying buyers' points, an increase from 13% in September. Twenty-seven percent of builders reported paying mortgage rate buy-downs, an increase from 19% in September.
New home buyers who secure a 2% rate buy-down from their builder would save around $376 a month on a $300,000 mortgage. Builders as well as lenders are optimistic that incentives, coupled with falling rates, will draw some prospective buyers back to the market.
"Mortgage rates are now at their lowest level since September 2022, and about a percentage point below the peak mortgage rate last fall," Fratantoni said. "As we enter the beginning of the spring buying season, lower mortgage rates and more homes on the market will help affordability for first-time homebuyers."