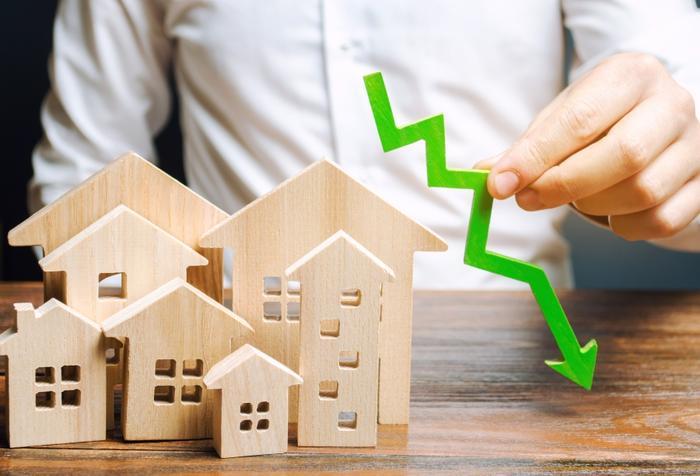 Photo (c) Andrii Yalanskyi - Getty Images
Mortgage interest rates continue to fall and the housing market, left for dead a few months ago, is showing signs of life.
The Mortgage Bankers Association (MBA) reported this week that mortgage applications rose 7.4% last week from the week before. Some of those applications were to refinance an existing mortgage but the combined increase suggests buyers are beginning to return, just ahead of the spring housing market.
Joel Kan, MBA's vice president and deputy chief economist, says the continued decline in mortgage rates is a key factor.
"Applications rose last week as the 30-year fixed mortgage rate inched lower to 6.18%, its fifth consecutive weekly decline," Kan said. "The 30-year fixed rate is almost a percentage point below its recent high of 7.16% in October 2022." 
One point makes a big difference
One percentage point makes a big difference in the monthly payment, especially on a loan of hundreds of thousands of dollars. Last year, the combination of record-high home prices and a doubling of mortgage rates priced millions of people out of the housing market. Kan says many of those consumers still want to become homeowners.

"Purchase activity that was put on hold last year due to the quick runup in rates is gradually coming back as rates ease and housing demand remains strong, driven by supportive demographics and the ongoing strength in the job market," he said.
However, the return of buyers to the housing market could limit how much home prices will moderate over the rest of the year. A ConsumerAffairs study, published last summer, showed many people not only expected a housing market "crash," but were also hoping for one so they could buy homes at a lower price.
More expensive homes
Just a 1% decline in the average mortgage rate has not only drawn more buyers back into the market, Kan says they are able to afford more expensive homes – not good news for those waiting for prices to fall.
"The average loan size on a purchase application increased to $428,500 – the largest average since May 2022," Kan said. "This increase is a sign that the recent upward trend in purchase activity remains skewed toward larger loan sizes and less first-time homebuyer activity, as entry-level housing remains undersupplied, and buyers struggle with affordability in many markets."
According to the National Association of Realtors (NAR), pending home sales increased in December for the first time since May – another sign that purchase activity is rising. While sales fell 6.5% in the Northeast, they rose 6.1% in the South, where prices tend to be lower.
NAR Chief Economist Lawrence Yun says mortgage rates will likely level off in the 5.5% to 6.5% range later this year, improving home affordability for some, if only slightly.