---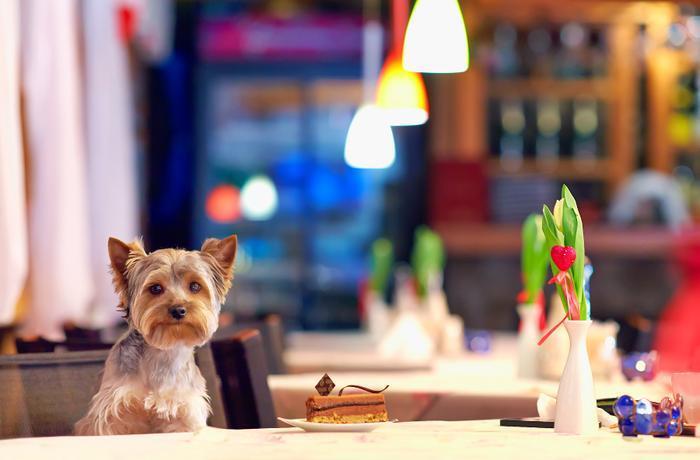 Traveling with your dog has become easier over the years. First a few – then many more – hotels began to allow pets to stay with their owners in the room.
While the sleeping arrangements were getting easier, there was still the matter of dining. Many travelers and their pets found food choices limited to restaurants with drive-thru windows.
But just as it took a while for hotels to become friends with pets, some restaurants are only now beginning to embrace four-legged customers. The latest edition of the AAA PetBook includes a chapter on restaurants.
Dining information
"For more than 15 years The AAA PetBook has been helping travelers plan getaways that include pet-friendly places to stay and play," said Bill Wood, vice president, AAA Publishing and Travel Information. "We are excited to expand that offering with dining information. For travelers who consider their pets as part of the family, the newest AAA PetBook makes it easier to include the whole gang in all aspects of the vacation."
Your furry friend won't be sitting down at a dining room table with you, or even lurking beneath it. Rather, an increasing number of restaurants – especially those located along heavily traveled routes – are accepting pets in their outside dining areas.
For example, there are 42 restaurants in Las Vegas that accept dogs, according to BringFido.com. While many of the restaurants listed on the site are casual sandwich shops, one of the 42 restaurants is an Italian restaurant, Spiedini's, that was said to welcome dogs on its patio.
Disconnect
However, Connie of Northern California, in a post on BringFido.com, said she and her pooch got a different reception.
"Though we called ahead to ensure we would be welcome with a dog, we got a different story once we arrived: they said no dogs allowed!" Connie wrote in her review.
PetFriendlyRestaurants.com, as the name implies, is a site with listings of restaurants where your pet can join you for a quick bite. Alameda Wine Company, in Alameda, Calif., won a rave review from a diner named Cybele Chang.
"Dogs are treated like royalty at this little wine bar next to the historic Alameda Theater," she wrote. "Each dog gets no less than a stainless steel bowl of water, many healthy dog treats, and with pet owner's permission, first class salami and cheese."
Policies can change
While pet-friendly restaurant directories are helpful, remember that restaurant management and policies can change overnight. The welcome mat for pets can be put away so it's usually a good idea to call ahead to confirm your dog will be allowed to join you for lunch or dinner.
Meanwhile, AAA says its PetBook provides detailed listings — including pet policies, amenities and fees —for more than 13,000 AAA Approved and Diamond Rated hotels, along with more than 800 pet-friendly campgrounds.
To help you plan a trip the book also lists national public lands and attractions that allow pets and 300 dog parks in U.S. and Canadian travel destinations.
---