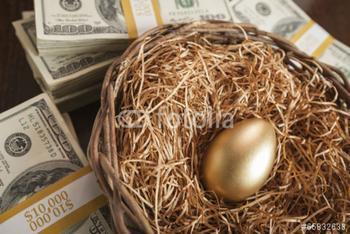 After several high-profile and well-paid professional athletes retired from their sport in near-bankruptcy, leagues began providing rookies with some financial coaching in addition to athletic coaching.
It's made a difference, as more players now have diversified portfolios to fall back on when their playing days are over.
When you boil it down, it's an example of a financial wellness program -- learning good habits to build wealth and avoiding financial mistakes. These days, businesses are adopting a similar approach, with financial wellness programs becoming a popular employee benefit.
SunTrust has just rolled out a financial wellness program and reports Home Depot, Delta Airlines, Equifax, McKee Foods, Waffle House, Haverty's, and 1-800 Contacts are among the early adopters.
Financial fitness programs
"More than 40% of Americans live paycheck to paycheck, and 75% report experiencing financial stress," said Bill Rogers, CEO of SunTrust. "Progressive companies can improve overall wellness in America by offering a financial fitness program for their employees."
Participating employees take part in workshops and online sessions to learn how to establish financial goals. The program stresses the importance of having an emergency savings fund and managing spending habits.
SunTrust says a follow-up survey found employees who had a household budget rose from 43% before the start of the program to 87% when it was completed. By the time the program ended, nearly all participants had set up an emergency funds and increased their contributions to retirement savings accounts by 35 percent.
No sales pitches
SunTrust stresses that its program is non-profit and there are no advertisements or sales pitches for financial products anywhere in the curriculum.
"We've had terrific feedback from our associates about this program," said Scott Smith, vice president of Human Resources at Home Depot. "It's a great way for us to put more power behind the great financial benefits we already offer."
You're likely to hear more about these programs in the months ahead, and maybe even have access to one at your place of employment.
PWC's 2017 Employee Financial Wellness Survey found that employees' financial stress takes a toll on company productivity. Nearly a third of employees said they are distracted by personal financial issues while at work. Nearly half admit to spending three hours or more each week dealing with personal finances at work.
What's behind this growing financial stress? Not surprisingly, for many it is student loan debt.
Forty percent of Millennials and 31% of Gen X employees with student loans reported these debts are having a significant impact on their ability to set and meet other financial goals.
Companies interested in adding a financial wellness program can learn more by reading this report from the Consumer Financial Protection Bureau.