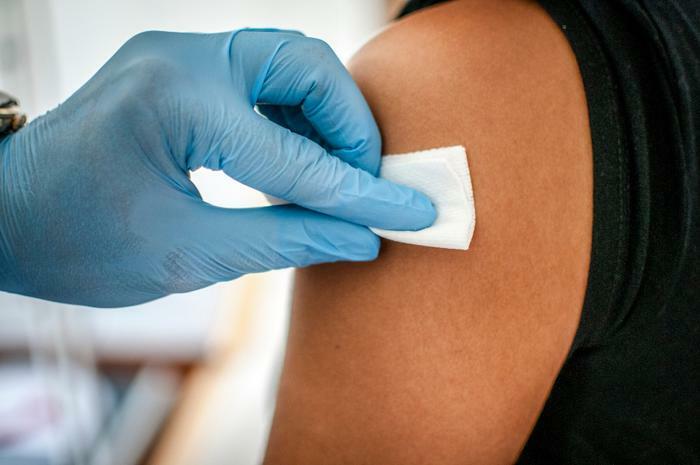 Consumers have been receiving the COVID-19 vaccine since mid-December, and Moderna emerged as one of two primary vaccination options early on. Though several studies have confirmed the safety and efficacy of these vaccines, a new report is now calling attention to a potential side effect that consumers may experience from the Moderna vaccine. 
According to researchers from Massachusetts General Hospital, some patients have experienced a delayed skin reaction after receiving the Moderna vaccine. However, the team is adamant that this doesn't affect how well the vaccine works, and they urge consumers to follow up with the second dose of the vaccine regardless of whether this reaction occurs. 
"Whether you've experienced a rash at the injection site right away or this delayed skin reaction, neither condition should prevent you from getting the second dose of the vaccine," said researcher Dr. Kimberly Blumenthal. "Our immediate goal is to make physicians and other care providers aware of this possible delayed reaction, so they are not alarmed, but instead well-informed and equipped to advise their patients accordingly." 
Delayed reactions aren't common
The researchers discovered this skin reaction after analyzing Phase 3 data from the Moderna clinical trial. This dataset included information on more than 30,000 participants who had gotten the Moderna COVID vaccine; while nearly 85 percent of the participants immediately experienced a mild reaction at the injection site, just under one percent of the participants experienced a similar kind of reaction more than a week later. 
The researchers followed up with a dozen participants who had developed this delayed reaction and noted several similarities in their experiences. The majority of this group reported that their rash appeared eight days post-vaccine, though some didn't notice a reaction until 11 days after they were vaccinated. The reaction didn't last long, as most of the participants said they were symptom-free within one week. 
The researchers are unsure why these skin reactions popped up after so much time had passed since the time of vaccination. However, they explained that these large, bumpy rashes aren't a cause for concern. Not all of the participants experienced a reaction following the second dose of the vaccine, and treating the rashes didn't require more than antihistamines.  
"Delayed cutaneous hypersensitivity could be confused -- by clinicians and patients alike -- with a skin infection," said researcher Dr. Erica Shenoy. "These types of reactions, however, are not infectious and thus should not be treated with antibiotics." 
Consumers should still get fully vaccinated
The researchers hope that this work draws attention to these reactions to ensure that patients are treated appropriately. They stressed that these findings shouldn't change consumers' vaccination plans; instead, they should bring awareness to a potentially mild and delayed side effect. 
"For most people who are experiencing this, we believe it's tied to the body's immune system going to work," said researcher Dr. Esther Freeman. "Overall, this data is reassuring and should not discourage people from getting the vaccine."