---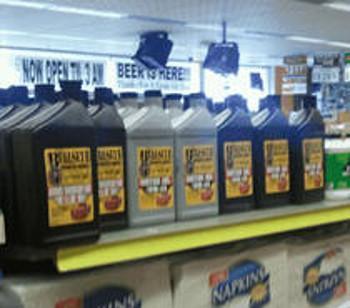 Missouri's attorney general is suing five St. Louis retailers for selling motor oil, transmission fluid and antifreeze that didn't measure up -- in more ways than one.
Attorney General Chris Koster said the products -- which came from Rock Bottom Wholesale of St. Louis -- didn't contain the advertised quantity and often did not meet quality standards, meaning that motorists who relied on them could suffer serious engine damage.
"People who rely on their car to get to work or to take their kids to school should not have to face catastrophic engine failure because they tried to save money," said Koster. "Missouri consumers deserve engine products that live up to the representations made on the bottle."
Koster is not Rock Bottom's only headache. In October 2013, the U.S. Food and Drug Administration (FDA) sent Rock Bottom a letter warning that smokeless tobacco products the company was offering for sale were misbranded because they did not contain any of the required federal health warnings.
Also in 2013, Michigan ordered retailers to stop selling Bullseye brand motor oils, saying that a statewide investigation found Bullseye lubricants consistently contained less product than the label represents.
Rock Bottom holds an "A" rating from the Better Business Bureau, however.
41 brands
Koster's office joined the Missouri Department of Agriculture's Division of Weights and Measures in a crackdown on the allegedly mislabeled and fake products.
Beginning in December, 2013, state inspectors discovered that St. Louis-area retailers were selling 41 different brands of motor oil, transmission fluid, and antifreeze products that did not contain the volume or quality of the contents advertised on their label.
Testing overseen by the Division of Weights and Measures found products seized from Rock Bottom Wholesale had a variety of problems, including:
Motor oil that was un-labeled used oil and contained metallic sediment, motor oil that fell below minimum viscosity standards, and, in one case, a product that did not even contain oil at all.

Antifreeze products that contained medical-waste methanol – a corrosive with a boiling point below normal engine temperature – or, in one case, wiper fluid and green dye.

Products advertised at a specific volume, such as one-quart, that were under-volume. One automatic-transmission fluid product, sold under the name Bullseye Type A, was labeled as one-quart, but was actually only .77 quarts.
Each of the 17 retailers and two wholesalers visited by state inspectors in March was ordered to stop selling the 41 suspect products. In a May re-inspection, inspectors found five retailers were still selling products in violation of the stop-sale order.
In lawsuits filed in St. Louis City and County, Koster alleges the five retailers knowingly sold fraudulent products to consumers that could damage their cars:
Unique Mark, 9641 St. Charles Rock Road;

Shell, 4903 Goodfellow Blvd.;

Phillips 66, 5003 Goodfellow Blvd.;

Kenny's Discount, 5477 N. Kingshighway; and

Quality Market, 2708 N. Florissant Ave.
"Our investigation remains ongoing, particularly into the source of these products," said Koster. "While we have removed deceptive products from these 17 stores, consumers should be aware that inspectors continue to check for these damaging products in other stores throughout the state."
---