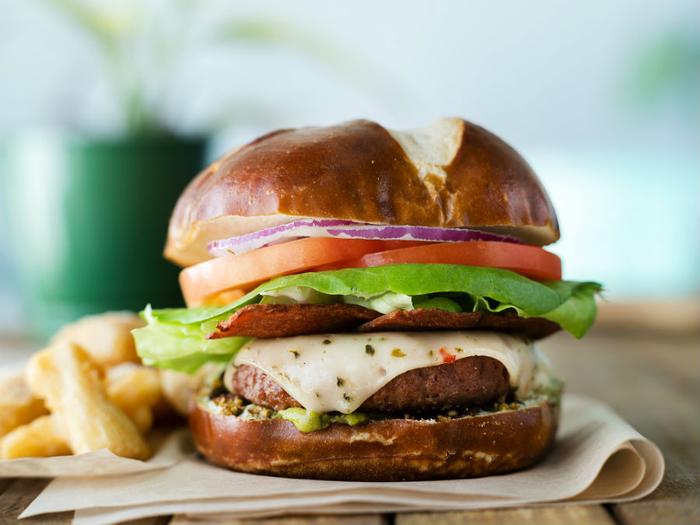 In case anyone was unclear as to why Missouri needs a law clarifying that meat comes from animals, state lawmakers who enjoy eating meat have answers.
"I love eating some chicken. And I know what a chicken is. And I love pork chop. I love me a pork chop," State Representative Greg Razer said, shortly before he voted to pass the nation's first meat-labeling law in May.
The measure was signed by outgoing Missouri Governor Eric Greitens the following month.
What does it do?
On the surface, the Missouri meat-labeling law is presented as a simple truth-in-advertising rule. "We've got companies and individuals that want to rename what fruits and vegetables are and call them meat," State Representative Jay Houghton claimed at the time.
The measure specifically prohibits "misrepresenting a product as meat that is not derived from harvested production livestock or poultry."
But federal laws already ban food companies from passing their products off as something they're not. And when the Missouri meat labeling law was still up for debate, some representatives expressed concerns that meat interests were trying to kick their plant-based competition to the curb by policing any and all meat-like language.
State Representative Tracy McCreery noted that two vegan brands that use the word "meat" -- Beyond Meat and Match Meat -- are based out of Missouri and "employ a lot of people."
"So, seriously, when somebody buys meat made out of soy, you think that they're dumb enough to think that it's actually meat from a slaughtered animal?" she asked.
Her colleagues stayed safely away from that question and didn't say whether their constituents were having trouble distinguishing between a soy burger and a beef burger. But they did counter that the state's beef industry employs far more people than the vegan companies, reason enough for a crackdown on the definition of "meat."
"There are many products that are starting to come to market that use the term 'meat' in them that don't necessarily come from animals," State Representative Deb Lavender, a meat-labeling opponent, said at the time.
"So, inside of the integrity of the meat industry, they want to capture that word to mean something extremely specific."
Beef industry will benefit, Tofurky lawsuit alleges
State lawmakers weren't shy in stating that they were acting in the interest of the state's beef producers. "All we're trying to do is basically just protect our meat industry," Houghton added at the time.
Whether that protection comes at the expense of the vegan food industry and other competitors remains an open question, even as the meat-labeling law is about to go into effect in Missouri on Tuesday.
The ToFurky brand, famous for selling soy deli slices that are supposed to taste like cold cuts, is now suing Missouri to stop the labeling law from being enforced. In a complaint filed on Monday, ToFurky is fighting alongside the the Animal Legal Defense Fund (ALDF) and American Civil Liberties Union (ACLU) of Missouri to argue that meat-labeling laws violate the First Amendment and other constitutional amendments.
The suit notes that people who are accused of violating Missouri's agricultural statutes could face criminal prosecution. In this case, violators accused of misrepresenting their non-meat products as meat could be charged with a Class A Misdemeanor and punished with a year in jail or a $1,000 fine.
ToFurky behind bars?
"Tofurky could be, as early as tomorrow, prosecuted by any Missouri local prosecutor. That's a very real threat and it's something that Tofurky is concerned about," Amanda Howell, an attorney with the Animal Legal Defense Fund (ALDF) tells ConsumerAffairs.
State Senator Sandy Crawford, credited with authoring the meat-labeling law, has not yet returned messages from ConsumerAffairs asking whether companies that use the word "meat" to clarify that they are not meat would be prosecuted.
"We wanted to protect our cattlemen in Missouri and protect our beef brand," she told an industry publication earlier this year.
State Attorney General Josh Hawley's office also declined to answer whether ToFurky or others could face prosecution for advertising their vegan products as tasting like meat.
"The attorney general's office cannot interpret law for people who are not our clients," an agency spokesman said on the phone.
But the agency later told the St. Louis Post-Dispatch newspaper that they were prepared to defend the new law and "take legal action as appropriate under the circumstances to protect Missouri consumers," presumably the same consumers who could not tell the difference between soy and beef.
Howell, the ALDF attorney, says Missouri's meat-labeling law will empower the state's criminal prosecutors to go after any company selling products that they deem are being misrepresented as meat.
"Because it's so vague, these plant-based meat producers like ToFurky don't even know if they follow this law," she tells ConsumerAffairs. "So it's a due process violation on top of it."
Consumer confusion evidence is limited
According to the vegan and civil liberties groups' complaint, regulating use of the word "meat" violates both the First Amendment and the Dormant Commerce Clause, or the constitutional law that prohibits states from discriminating against interstate commerce.
The complaint notes that vegan brands like ToFurky often borrow meat industry terminology to advertise what their products are supposed to taste like -- while also distinguishing themselves from the real thing.
"Plant-based meat products that use such terms like 'deli slices,' 'burger,' 'sausages,' or 'hot dogs," with accompanying qualifying and descriptive language, clearly indicate that the products are plant-based," the suit says.
ToFurky and the others say that during hearings, Missouri lawmakers presented scant evidence that consumers were mistakenly buying fake meat on the impression that it was real.
"The Office of the Missouri Attorney General—the agency responsible for protecting consumers and preventing misleading business practices—has received zero complaints from consumers who accidentally purchased plant-based meats that they believed to be meat from slaughtered animals," the suit says.
New meat markets
The meat labeling law comes at a time when meat substitutes are gaining a small but steady market share from American consumers, not to mention millions in venture capital dollars.
In addition to the older soy products, the meat industry is also seeing newer competition from companies using tempeh, seitan, and jackfruit, to name a few of the many substances increasingly taking up space in the frozen food aisle. Many of those meat-substitute brands use the word "meat" in their advertising -- the Jackfruit Company, for instance, says that Jackfruit is a tasty "fiber meat alternative."
In addition to vegan meat, the meat industry and Missouri lawmakers also say they are concerned about meat grown from cell cultures in a lab, a technology that investors like Bill Gates have been promoting in recent years.
According to supporters of "clean meat," as they call the lab-grown meat, the product could bring the taste of genuine meat to dinner plates without the environmental damage and health concerns that have become a stain on the conventional meat industry's reputation. Scientists that work for the lab-grown meat industry claim that such products may be restaurant-ready by as early as 2021.
But lab-grown "clean meat" is not yet available for sale, and how it would be regulated under federal laws remains unclear. The Good Food Institute, a non-profit that lobbies for both plant-based products and the futuristic lab-meat industry, is joining ToFurky and the NGOs to fight Missouri's labeling law.
"No one buys Tofurky 'PLANT-BASED' deli slices thinking they were carved from a slaughtered animal any more than people are buying almond milk thinking it was squeezed from a cow's udder," the Good Food Institute says in a statement.
Federal fight
What happens in Missouri could have implications for the rest of the nation, as the the beef industry is also lobbying for meat-labeling laws at the federal level.
In February, the U.S. Cattlemen's Association petitioned the USDA to prohibit alternative meat companies from using the terms "meat" or "beef" in their advertisements. "Current labeling practices may cause consumer confusion in the marketplace," the beef producers claimed.
But that attitude isn't universal. Some conventional meat producers are opting to try the meat-substitute craze themselves. In January, chicken giant Tyson Foods announced that it was investing in a lab-grown meat startup called Memphis Meats.