---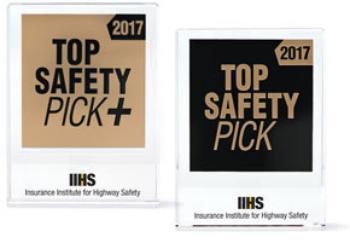 A pair of all-electric vehicles -- the 2017 Tesla Model S and the BMW i3 -- just missed meeting the Insurance Institute for Highway Safety's (IIHS) awards criteria.
"There's no reason the most efficient vehicles can't also be among the safest," said David Zuby, IIHS executive vice president and chief research officer. "We hope Tesla and BMW will continue to refine the designs of their electric models to maximize driver protection and -- especially in the case of Tesla -- improve their headlights."
The Tesla shortfall
The Tesla Model S, a large luxury sedan, earned good ratings in all IIHS crashworthiness evaluations except the small overlap front crash test. In that test, it received an acceptable rating.
Despite lengthening the side curtain airbags to improve small overlap protection in the Model S, Tesla ran into problems in the test when the safety belt let the dummy's torso move too far forward, and the dummy's head hit the steering wheel hard through the airbag.
Measurements from the dummy indicated injuries to the head, along with the lower right leg, would be possible in a real-world crash of the same severity.
The ratings for the Model S apply to 2016 and 2017 cars built after October 2016. Tesla says it made a production change on January 23 to address the head-contact problem. IIHS will test the updated vehicle for small overlap protection as soon as it can be delivered.
i3 problems
The i3, a small car, was rated only acceptable in the head restraint and seat evaluation, which measures a vehicle's ability to protect against neck injuries in a rear crash. While such injuries are rarely fatal, they are the most common type of crash injury and can cause debilitating pain.
The i3 received good ratings in the other crashworthiness tests and is available with an optional front crash prevention system that earns an advanced rating.
The system reduced the impact speed by an average of 9 mph in the 12 mph track test and by 7 mph in the 25 mph test. Its warning component meets National Highway Traffic Safety Administration criteria.
The i3's only available headlight system earned an acceptable rating.
"BMW clearly thought a lot about safety when designing the i3," said Zuby. "It's a shame that it missed the mark on head restraints, which is something most of today's vehicles get right. Among small cars, the i3 is the only 2017 model that doesn't earn a good rating."
IIHS plans to test another green car, the all-electric Chevrolet Bolt, once it becomes widely available later this year.
---