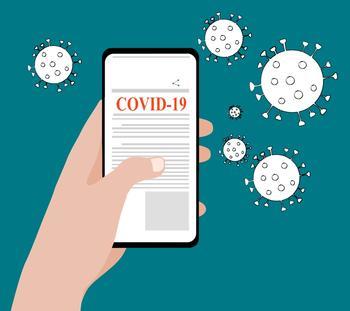 Misinformation was circulating around the internet well before the COVID-19 pandemic; however, since the start of the pandemic, popular sites like Facebook and YouTube have been in the news for contributing to the spread of misinformation about the virus. 
Now, a new study conducted by researchers from MIT shows that it's consumers' natural inclination to share things on social media that is a big factor in the spread of misinformation. 
"There is just something more systemic and fundamental about the social media context that distracts people from accuracy," said researcher David Rand. "I think part of it is that you're getting this instantaneous social feedback all the time. Every time you post something, you immediately get to see how many people liked it. And that really focuses your attention on: How many people are going to like it? Which is different from: How true is this?" 
Thinking critically about social media posts
The researchers conducted two online experiments to understand how false COVID-19 information is spread on social media. In the first study, over 850 participants were split into two groups and shown 30 Facebook-style news posts related to COVID-19; half of the posts contained misinformation while the other half were pieces of factual news content. 
The researchers wanted to gauge two measures with this study. First, they wanted to see which of the stories were the participants more inclined to share to their own personal social media feeds. Secondly, they wanted to know whether the participants could identify which news stories were accurate. 
When it came to sharing stories, the participants were split pretty evenly between sharing the stories that were true and ones that were fabricated. However, the group who had to determine the accuracy of the posts did so correctly nearly 70 percent of the time. 
The second study took things a step further. Another 850 participants were shown the same headlines as the first group. The main difference is this study was that participants looking for accuracy first looked at a news headline unrelated to COVID-19 and then were asked to identify the true or false pandemic-related stories. 
Taking this extra step, considering a non-COVID headline and being pressed to discern factual information, turned out to be an effective practice; the group outperformed those in the first study who were asked to perform the same task. 
"The idea is, if you nudge them about accuracy at the outset, people are more likely to be thinking about the concept of accuracy when they later choose what to share," Rand said. "So then they take accuracy into account more when they make their sharing decisions." 
Social media distraction 
Rand and his team think these patterns have emerged with COVID-19 misinformation for two main reasons: social media lends itself to fast news and easy shares, and consumers already have a heightened sense of anxiety around the pandemic. 
"A lot of people have a very cynical take on social media and our moment in history, that we're post-truth and no one cares about the truth anymore," said researcher Gordon Pennycook. "Our evidence suggests it's not that people don't care; it's that they're more distracted."