---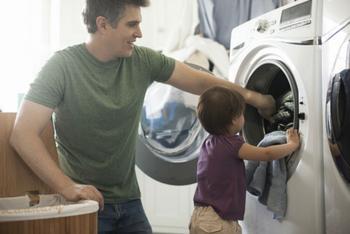 Today's fathers seem to be taking on a bigger role in the household. More dads than ever are handling the child care, tackling the grocery runs, and taking on the role of stay-at-home dad.
According to a new report by the American Academy of Pediatrics, U.S. dads are more involved in child care than ever, which could be a boon for kids' health.
Studies have found that an involved dad can make all the difference. In fact, older kids with involved fathers tend to have fewer behavioral problems, symptoms of depression, and lower rates of teen pregnancy.
So how are dads of this generation stepping up to the plate when it comes to household responsibilities and caring for kids?
"Bro-cery shopping"
Millennial dads are spending more time in the grocery aisles compared to previous generations. In fact, a new survey by Ibotta finds that today's dads have increased the number of grocery purchases by 62% since 2013.
Younger fathers (ages 18 to 24) are purchasing 25% more groceries than dads in older generations. The numbers also show that men are making more trips to the grocery store each month (up 5% since 2013).
And it seems as though dads' upped grocery game is taking some of the burden off of mom; the share of groceries purchased by millennial mothers has decreased by nearly 2.5% in the same time span.
Increase in stay-at-home dads
Today, there are roughly two million dads who do not work outside the home, according to Pew Research. While this number represents only 7% of fathers in the U.S., it's an increase from 1989 when just 4% of dads stayed home.
Pew researchers note that the reasons more dads are staying home are changing, too. In 2012, nearly a quarter of dads said caring for home or family was their main reason for staying home -- four times as many as in 1989.
But not everyone is on board with these changes. A majority (62%) of those surveyed say an ideal marriage is one in which the husband and wife both have jobs and both take care of the house and children. However, 74% also say that having women in the workplace makes it more difficult for parents to raise children.
Thanks
Keep an eye on your inbox, the lastest consumer news is on it's way!
Unsubscribe easily whenever you want
---