---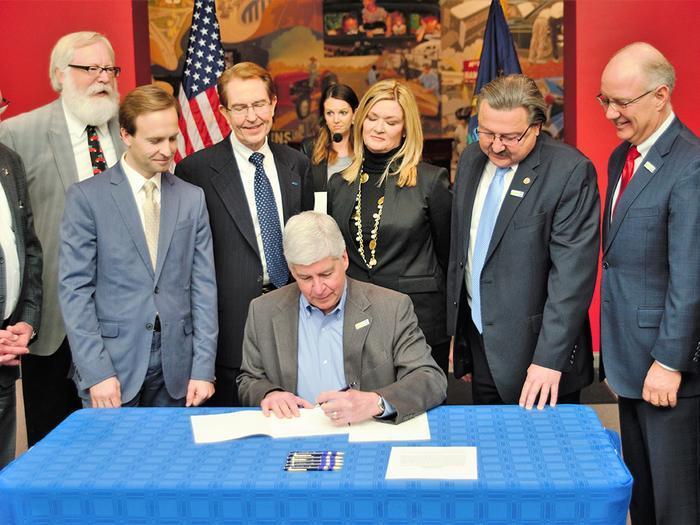 Michigan is rolling out the welcome mat for self-driving cars, hoping to take back California's early lead as the proving ground for autonomous vehicles. Gov. Rick Snyder signed legislation today that lets cars without steering wheels or brake pedals travel on Michigan roads.
It goes considerably farther than that, also allowing companies to operate Uber-style autonomous ride-hailing services and even to sell self-driving cars to consumers once they have passed the testing and certification process.
California has been back-pedaling somewhat, under pressure from consumer groups who say it has been too eager to let companies like Google conduct their R&D efforts on public roads.
Federal safety regulators have also shifted gears, declaring in September that automakers would have to achieve what the Department of Transportation (DOT) is calling a "robust design" to ensure that self-driving cars are safe before they can be sold or operated on public roads.
The DOT said it may also ask Congress to require that automakers get approval from the National Highway Traffic Safety Administration (NHTSA) before introducing new models -- similar to the way the Federal Aviation Administration now grants airworthiness certificates to airplanes.
That's a significant shift in what had been more of a laissez-faire approach that let automakers and companies like Google and Uber put just about any kind of autonomous car on the road as long as there was a licensed driver on board.
But as with so many federal matters today, there's considerable doubt that the incoming Trump Administration will be as likely as the incumbents to put the brakes on the technology. Then there's the little matter that Michigan was key to Trump's upset victory in November. 
East vs. Midwest
Besides state pride, there's the whole question of whether autonomous vehicles are cars driven by computers or computers with wheels. Michigan is the traditional home of the car business, while California's Silicon Valley drives the software sector, and Michigan is determined to remain the capital of the automobile industry, autonomous or otherwise. 
Snyder says his state's liberal new rules will speed up the development process while ensuring safety.
"By establishing guidelines and standards for self-driving vehicles, we're continuing that tradition of excellence in a way that protects the public's safety while at the same time allows the mobility industry to grow without overly burdensome regulations," Snyder said as he signed the legislation at the Automotive Hall of Fame Museum, where he was flanked by a Ford Model-T on one side and a self-driving Fusion on the other.
"Michigan put the world on wheels and now we are leading the way in transforming the auto industry," Snyder said. "We are becoming the mobility industry, shaped around technology that makes us more aware and safer as we're driving. By recognizing that and aligning our state's policies as new technology is developed, we will continue as the leader the rest of the world sees as its biggest competition."
Automakers beamed their approval. "The enactment of this legislation affords Michigan the opportunity to be at the forefront of the next major transition in the automotive industry and should serve as a model for other states," GM said in a statement, according to an Automotive News report. 
FCA, Ford, Toyota, Google, Uber, and Lyft have also applauded the measure.
So far, only 10 states including Michigan have enacted laws allowing autonomous vehicles on their roadways. The District of Columbia also allows self-driving cars to creep along its clogged streets and avenues, but whether or when the other 40 states will do so remains to be seen.
---