---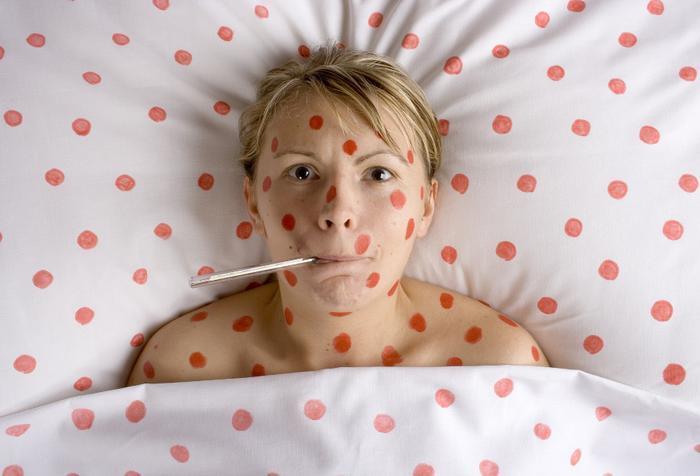 Measles, a childhood disease most Baby Boomers endured, is back. Cases linked to the Disneyland theme park in California are approaching 100 and have spread to at least 7 states.
Health officials haven't been shy about their belief the new outbreak is because a growing number of parents are withholding the measles vaccination from their children, in the belief it is linked to autism. The officials say that belief is wrong.
While that belief will likely remain the focus of fierce debate, health care providers are trying to contain the outbreak with an education campaign aimed at primary care providers and the public.
Highly contagious
According to the Centers for Disease Control and Prevention (CDC), measles is an airborne virus and one of the most contagious diseases in existence. Here's one of the things that can make it so potent – it can linger in a room for up to 2 hours after the infected person has left.
It starts with a fever, runny nose, sore throat and cough much like the flu. Then the tell-tale rash develops over the body, with red splotches. That's when you know it's the measles.
The CDC says about 3 out of 10 people who get measles will develop complications, which can include pneumonia, ear infections and diarrhea. Complications are more common in adults than children.
Back from extinction
"Measles was declared eliminated in the United States in 2000," said Dr. Paul Jarris, executive director of the Association of State and Territorial Health Officials (ASTHO). "Sadly, this status is endangered."
He notes that many parents and physicians have never seen a case of measles before.
"This outbreak demonstrates why we can never let our guard down against vaccine-preventable diseases," Jarris said.
But here's the rub. There are thousands of parents who have not vaccinated their children against measles, believing there is something in the vaccine increasing their risk of autism. Most health officials insist this is not the case.
Exceptions
But there are exceptions. CBS News recently reported on one Santa Monica, Calif., doctor who routinely grants parents' request to exempt their children from the measles vaccine. The reason? He sees little harm if kids get the disease.
"Measles is almost an always a benign childhood illness," said Dr. Jay Gordon.
Most health officials, however, don't see it that way. ASTHO says measles can be a matter of life and death. It concedes that measles deaths decreased by 73% worldwide between 2000 and 2013, but notes measles still caused 145,700 deaths globally in 2013.
Detective work
The organization is busy tracing those exposed to the current measles outbreak and, if they haven't been immunized, is using them to get the vaccine.
"At ASTHO, I'm proud of the work that the California Department of Public Health and other states are doing to protect our children by containing this outbreak, preventing future ones, and bringing us closer to maintaining full elimination status," Jarris says.
There is also a financial issue involved in stamping out measles once again, Jarris says. A study last year found that there were 16 measles outbreaks in 2011 that resulted in 107 cases, which cost local and state public health departments an estimated $2.7 million to $5.3 million.
Every dollar spent on the child measles, mumps, and rubella vaccine saves $23.30, according to CDC.
---