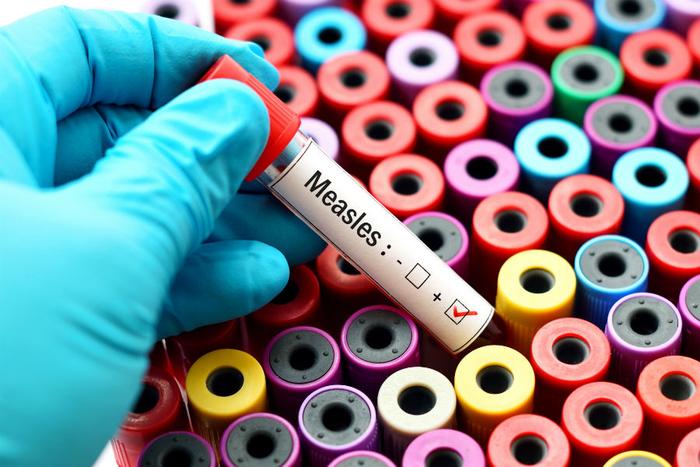 Cases of measles have risen to their second-highest level since the virus was declared eliminated in 2000, the Centers for Disease Control and Prevention (CDC) announced Monday. So far this year, 555 measles cases have been confirmed in the United States.
More than 70 of the 90 cases confirmed in the last week were from New York City and New York State, said Dr. Amanda Cohn, the CDC's senior adviser for vaccines. The CDC says ongoing outbreaks are also happening in Clark County, Wash.; Oakland County, Mich.; two counties in New Jersey; and several counties in California.
"The number of cases is accelerating," said Dr. Cohn. "We are on track to have one of the highest numbers of cases of measles reported since we eliminated the disease in the year 2000."
Global outbreaks
At the global level, cases of measles have been rising over the past two years in several countries. The countries that are currently most affected by measles outbreaks are Ukraine, Madagascar, India, Pakistan, Philippines, Yemen, and Brazil, according to the World Health Organization (WHO).
Experts say the anti-vaccination movement is a primary reason for this year's massive outbreak.
"It's just terribly sad that children in the US are having to suffer measles. This should not happen," Dr. William Schaffner, medical director of the National Foundation for Infectious Diseases and an adviser to the CDC on vaccines, told CNN. "We'd previously eliminated this disease not just in the US but in the entire Western Hemisphere, and it appears that now we've profoundly and sadly turned back the clock."
In an interview with Vox, Dr. Cohn noted that there's "vaccine hesitancy in a world where people don't see measles anymore. We have to continue to remind people how serious measles is."
The CDC notes that before the measles vaccination program started in 1963, an estimated 3 to 4 million people got measles each year in the U.S.
The agency recommends two doses of the measles mumps and rubella (or "MMR") vaccine for children. The first should be given at 12 to 15 months and the second when the child is 4 to 6 years old. Two doses of the MMR vaccine are about 97 percent effective at preventing measles, and one dose provides about 93 percent protection.