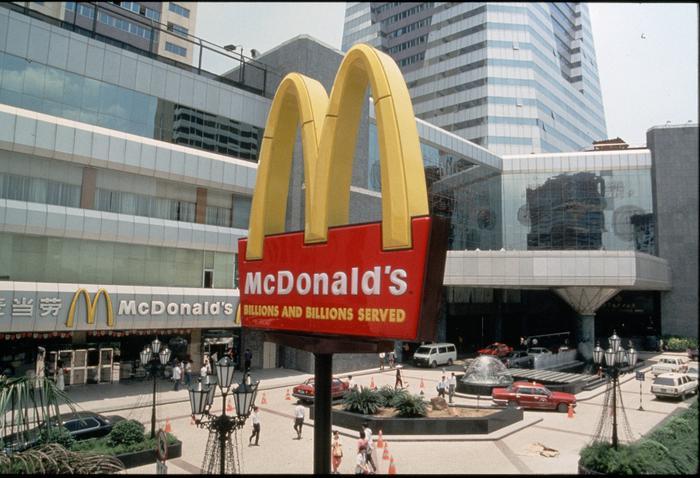 McDonald's says it anticipates that the price it pays for all of its essentials like food and paper bags will come close to doubling this year.
The fast-food chain stopped short of saying that its customers will have to pay twice as much for their food to offset the rise in costs, but it did say that it will have to find a way to balance price increases while still making sure its customers feel they're getting a good value.
"There is some pressure certainly," Chief Financial Officer Kevin Ozan told investors in a conference call, Thursday.
In addition to its concerns about how to manage rising costs, executives said the company is also struggling with other setbacks: a surge in COVID-19 cases, labor shortages, dining-related restrictions in various markets, and supply chain slowdowns. 
The silver lining inside that cloud – at least for the moment – is that chain-wide sales are up 7.5%, a bump that the company attributed to its success with fried chicken sandwiches, the McRib special, and cutting back on low-cost items while adding pricier premium items like the combo meal it curated with K-Pop sensation BTS.
Bracing for price increases
Will customers see a spike in menu prices? If what McDonald's did in the previous quarter to keep its profit line healthy happens this time around, then the answer will be yes. In its Q3 2021 earnings call, the company said the higher prices it was paying for goods would be passed along to consumers, with U.S. prices expected to rise in the ballpark of 6%.
We "generally try and take small increments of pricing at various times versus take a lot at one time," Ozan said in October, adding that the company continues to get good scores on value from customers despite price changes.
McDonald's won't be alone if it has to raise prices – a fact that consumers might have to learn to live with until the pandemic ends and the economy reverts to normal. Other recent price increases include a 10% hike at Taco Bell, an 8% increase at Dunkin', and hikes by Chipotle and The Cheesecake Factory, according to analysis from Gordon Haskett.
"Some chains have been vocal about rising prices, warning customers ahead of time," said Insider's Mary Meisenzahl. "Chipotle has been upfront about price increases over the last few years in part due to raising wages for employees."
Gordon Haskett analysts also pointed out that there were some companies that tried to make up for lost revenue by jacking up the price of delivery, making it 15.3% more expensive than pick-up orders.
Among the companies taking that route was Chick-fil-A, which was the most aggressive. Of the 25 chains Haskett analyzed, the company had the highest delivery pricing premium of them all, with menu prices that are 29.8% higher for delivery compared to pick-up. While it may have added some revenue, that turned out to be a bad move for Chick-fil-A when its customers sued the chain over claims of deceitful delivery costs.