---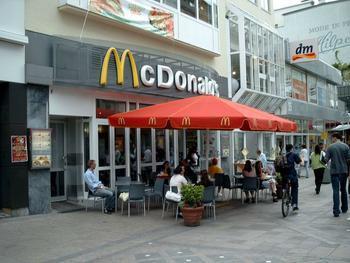 McDonald's executives have outlined sweeping changes planned for the fast food franchise, designed to reduce staffing needs while streamlining and modernizing the operation.
At press briefings in New York and Los Angeles, McDonald's said it is adding ordering kiosks to restaurants, installing "smart" menu boards, implementing mobile payments capabilities to its app, and will begin offering custom sandwiches and table service.
The moves are designed to update McDonald's business model, along the lines of Panera Bread and Chick-Fil-A, both of which now bring food to customers' tables after they order.
Reuters reports that about 500 of McDonald's 14,000 restaurants in the U.S. have already made some of the changes – notably stores in New York, Florida, and California. The company stopped short of giving a time frame for the changes to be implemented, but said outlets in Chicago, Boston, Seattle, and San Francisco are next on the list.
Mobile roll-out in 2017
Mobile ordering will be a pilot project in the first half of next year in select markets, with a full national roll-out anticipated in the second half of 2017.
The ordering kiosks, which are estimated to cost franchisees as much as $60,000, will likely reduce the number of employees a McDonald's restaurant will need to operate. The company has borne the brunt of labor pressure to increase the hourly wage of fast-food workers.
As we reported earlier this year, McDonald's franchises have been experimenting with changes that the company may or may not have been considering for incorporation into its system. A Missouri franchise owner built a 6,500 square foot store and outfitted it with upholstered furniture. Interestingly, he also experimented with all-you-can-eat French fries. At the time, it suggested the 61-year old company is open to new ideas.
Not a new idea
As for ordering kiosks, this is hardly a new idea for the golden arches. In early 2015, McDonald's told financial analysts that ordering kiosks were on the way. Other quick serve restaurants have successfully used these kiosks, and McDonald's may be looking at them as a way to deal with the pressure to increase employee wages.
Part of the pressure to raise wages likely stems from recent structural changes in the economy. Many fast food restaurants created jobs designed to be filled by teenagers living at home.
But because so many jobs have recently disappeared from the economy, that's not always who's standing behind the counter these days.
---