---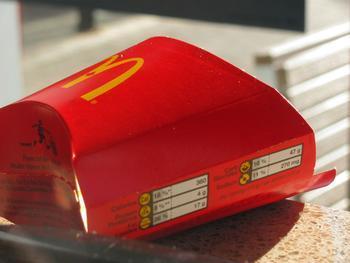 A year ago, McDonald's appeared to be on the ropes. Same store sales were down, as was the stock price.
Then a new CEO stepped in. Steve Easterbrook took the reins of the company and immediately began making changes, including the introduction in October of all-day breakfast. Suddenly McDonald's fortunes were looking up.
What other changes does the iconic burger franchise have in store? The company may be playing it close to the vest, but a franchisee in St. Joseph, Mo., last week was very forthcoming – maybe a bit more than the company would have liked.
The St. Joseph News-Press reported on an event held by Chris Habinger, owner of seven Missouri McDonald's locations. Habinger broke ground on what he called the McDonald's of the future. In doing so, he revealed some of the things that may be in the burger franchise's pipeline.
Habinger is building a 6,500 square foot McDonald's that he says will be different from his other restaurants. It will be furnished with couches and arm chairs, along with kiosks where customers can place their orders.
All you can eat French fries
He also revealed that customers will not only be able to use the kiosks to customize their burgers, but also order all-you-can-eat French fries. That might raise a few eyebrows among health advocates, who have long been critical of McDonald's menu – and excessive fast food consumption in general – when it comes to America's expanding waistline.
According to the McDonald's nutritional guide, a large serving of McDonald's French fries has 510 calories. An unlimited serving of fries would undoubtedly bring with it an unlimited supply of calories.
Pushing back but moving forward
Just last week, McDonald's was reported to be removing wraps from its menu, citing a lack of sales and heightened labor costs in assembling the items. In other words, not enough of McDonald's customers were interested in the lower-calorie and generally healthier fare to make it profitable.
McDonald's franchisees have also reportedly been pushing back against the growth of menu items, especially now that stores are being required to serve a limited breakfast menu all day.
As we reported last October, soon after the all-day breakfast debut, a survey of McDonald's franchise owners found general unhappiness with the change, cataloging complaints about the burden it placed on staff.
That now appears to be water under the bridge. And at least one franchisee – St. Joe's Chris Habinger – is very bullish on what he says is the McDonald's of the future.
Thanks
Keep an eye on your inbox, the lastest consumer news is on it's way!
Unsubscribe easily whenever you want
---