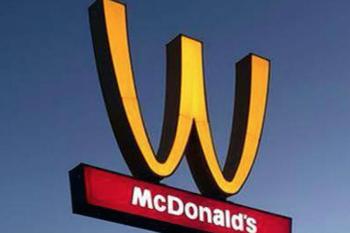 In celebration of International Women's Day (Mar. 8), McDonald's decided to flip its trademark golden arches upside down. The fast food chain changed its logo from a golden "M" into a golden "W" at one of its California locations "in celebration of women everywhere."
Additionally, McDonalds will flip its logo upside on all of its social media channels, and 100 McDonald's locations across the country will have special "packaging, crew shirts and hats and bag stuffers."
"For the first time in our brand history, we flipped our iconic arches," McDonald's Chief Diversity Officer Wendy Lewis said in a statement. "From restaurant crew and management to our C-suite of senior leadership, women play invaluable roles at all levels and together with our independent franchise owners we're committed to their success."
Social media backlash
Although the move was intended to honor "the extraordinary accomplishments of women everywhere," some consumers took to social media to point out the implications of flipping the "M."
"Now that it was inverted to make a 'W' for women, reversing it will make it an 'M' for men. Forever," said one Twitter user.
Others said McDonald's should prove that it honors and celebrates women by paying its staff more.
"You could also provide livable wages, better benefits, equal pay, legitimate career paths for the future, paid maternity leave…Or you can flip a logo upside down that works too," another user quipped.