---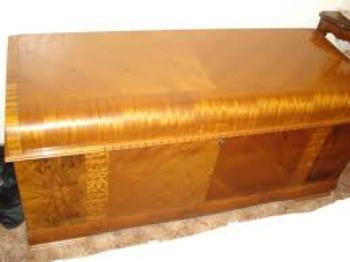 When you're browsing in a secondhand shop or antique store, or brushing dust off the heirlooms in Grandma's attic, chances are you'd never think to ask yourself, "Has there been a safety recall on this lovely vintage pre-World War Two antique?"
But a young brother and sister suffocated to death in Franklin, Massachusetts this week, when they climbed inside an antique hope chest and were unable to open the lid after it slammed shut on top of them. The Boston Globe reported on Jan. 14 that:
During an apparent game of hide-and-seek, 7-year-old Sean Munroe and his 8-year-old sister Lexi climbed inside a wooden storage chest that automatically latched shut when closed and could not be opened from the inside. The chest, determined by investigators to have been made in 1939, was part of a 1996 recall of 12 million such chests made by Lane Furniture of Virginia after reports of at least six children suffocating inside.

On Tuesday, District Attorney Michael Morrissey urged those who own Lane hope chests and similar models to check the lock to prevent similar tragedies.

"It's not just Lane hope chests," he said. "This is something that was very popular."
Lane chests were recalled in 1996 and again in 2000, specifically in order to replace the old-fashioned latches with models that can be opened by anybody inside.
The problem, again, is that even people who know to check recall lists for modern mass-produced products rarely think to do so for their antiques. (And it's not only the Lane company, nor is it only hope chests, parents should worry about; we just inspected a small antique "dry sink" in our living room and discovered its floor cabinet, when closed, automatically latches shut from the outside: not a problem for us, but it would be if we had a toddler or crawling infant small enough to fit inside the cabinet.)
Recall list only a start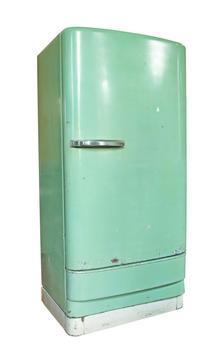 Parents: Checking your furniture against various recall lists is a good start, but only a start. You must also inspect your vintage cedar chests, hutches and cabinets, wardrobes, iceboxes … anything with an enclosed space large enough to hold a curled-up child.
Specifically, inspect the lock, latch or whatever holds its doors shut, to see if it can be easily opened from the inside. Older pieces of furniture are actually more likely to have dangerous latches, as they were made before the idea of designing latches to reduce the possibility of suffocation even occurred to anybody.
For example: If you're an American of a Certain Age – or talk to people who are – you probably have heard horror stories of children climbing into old discarded refrigerators and then suffocating inside. This really is a problem—for refrigerators built before 1958, the year the Refrigerator Safety Act came into force and required all new refrigerators sold in the United States to have doors capable of being opened with only 15 pounds of force pushing from inside.
Yet refrigerator deaths remained a problem for many years after 1958 because, of course, it took a long time for all the pre-1958 refrigerators in use to be replaced and destroyed.
Similar regulations regarding cedar chest latches were not put into place until 1987 — so be especially vigilant when inspecting latches on furniture older than that. Especially since hope chests, unlike refrigerators, are usually bought as heirlooms to be passed down through the generations, not appliances to be replaced as soon as they wear out.
---