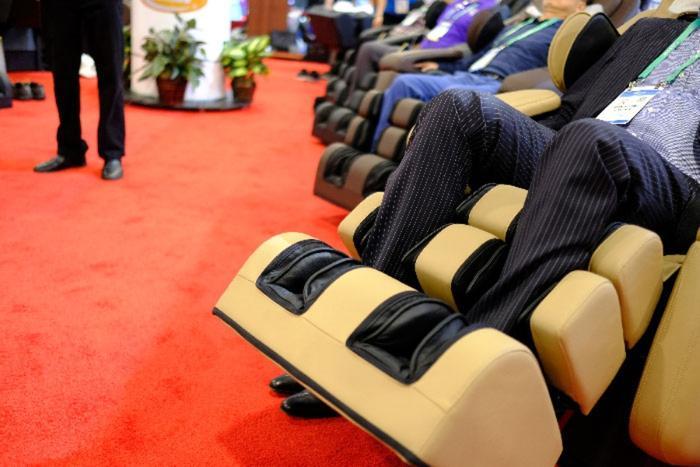 Technology has even made relaxing easier and a more pleasant experience.
Several manufacturers of massage chairs are at the Consumer Electronics Show (CES) this week to demonstrate how their products work. They're not to be confused with the vibrating recliners you might find at your local big-box furniture store chain.
"Some chairs just jiggle, Robyn Readicker, International sales and marketing manager for Luraco Technologies," told ConsumerAffairs. "Our chairs do a whole lot more than that."
Indeed they do, as show attendees who lined up to try the chairs at the Luraco exhibit quickly discovered. The chair provides a full body massage from the top of your neck to the soles of your feet.
"The chair customizes the massage to the user," Readicker said. "When the user first sits down the chair measures the body that's in the chair. It measures the length of the spine, the curvature of the spine, it travels down for that and comes back up where the shoulders break, and at the same time it's also measuring the length of the legs, so it can give an accurate massage."
Crossing luxury with health
The chair practically envelops the user and stretches limbs to loosen muscles. Robotically-controlled rollers simulate strong fingers as they move up and down the body. The massage itself is controlled using a touch-screen remote.
Retailing at $8,990, there is little doubt that Luraco chairs are a luxury item. But they also can play a key medical role for patients who benefit from regular body massages. The company says regular use of the chair not only reduces stress and enhances a good night's sleep, it has been shown to reduce blood pressure.
Made in the USA
Readicker says the Luraco chairs are the only massage chairs manufactured in the United States, at the company's facility in Arlington, Tex. It was awarded "best in fitness" honors at the 2016 CES.
The company says the Luraco i7 is also the only massage chair in the industry that "has systematically proved to provide health benefits and pain relief by an independent professional research institute."
The chairs are sold throughout the U.S. using a network of retail outlets.