---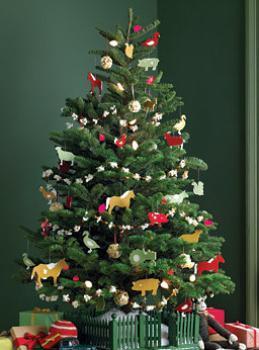 For whatever reason, Martha Stewart retains much of her celebrity appeal even as customers find themselves with darkened Christmas trees, glass-strewn patios and crumbling dishes.
For those setting forth in search of holiday decorations, it may be worthwhile to take a minute and review the experience of Carolyn of Jasper, Ala., who yesterday recounted her experience with a Martha Stewart Christmas tree she bought last year.
When she got the tree home, she discovered the lights didn't work. Being recently widowed, she didn't feel up to taking the tree back. When she took it out this year, same problem -- no lights.
"My nephew took it back to Home Depot where I got it to see if they could get the lights to work. They couldn't get it to work either but also said there was nothing they could do. They gave me a pack of fifty lights to put on it where lights didn't work," Carolyn said.
"Very dissatisfied with this product. Think I'm done with Martha Stewart If they stood by their products they would make this up. Home Depot said they had had a lot of complaints about lights on her trees."
Joady of Brockton, Mass., meanwhile, is irate about a set of Martha Stewart dishes.
"Am very disappointed in the quality of the product. Every dish, saucer and dessert plate I have has chips," she said. "The dishware says microwave safe, and the dish will get hot. I actually had the dessert plate crack in two pieces after 20 seconds in the microwave. The teacups constantly need to be filled with bleach to eliminate tea stains."
"Will not buy Martha Stewart dishware again, nor will I encourage friends and family to do so. I thought that this savvy businesswoman would make sure anything with her name on it would be up to her standards of perfection ... apparently not."
Ed of Aberdeen, Md., wrote to complain about a mattress: "My mother purchased a Martha Stewart Queen Size Mattress Set, and in less than 2 years, the mattress has completely collapsed by 2 1/2 inches! We even turned the mattress last year, to see if it would help, but that side also collapsed!"
"I guess having her name on ANY product, isn't an endorsement for the products under her name. I feel sorry for Sealy for making the damn thing, because normally, their products are wonderful," Ed said, echoing a sentiment expressed by many consumers -- namely, why doesn't Ms. Stewart instruct her minions to be a bit more forthcoming when consumers encounter problems with her products?
Think we're exaggerating? Take a look at the 1,500 or so complaints about exploding glass tables and other outdoor furniture. In years of sifting through such complaints, we've never encountered the slightest expression of concern, remorse or anything else from Ms. Stewart's company. Retailers occasionally try to help but as far as the Stewart brand is concerned, the policy seems to be: once you buy it, it's yours.