---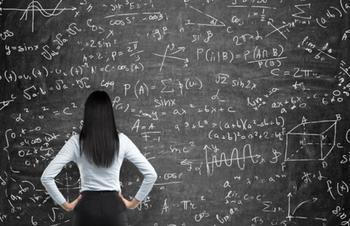 Eligible bachelors may want to consider adding "highly intelligent" to the list of qualities Mrs. Right should possess. If you've already partnered up with one? Good news: she may prevent you from getting dementia later in life.
Marrying an intelligent woman can act as a "buffer" against the disease, according to Lawrence Whalley, emeritus professor of mental health at the University of Aberdeen. During an Oxford University Literary talk called "Dementia: How Can We Protect Ourselves," Whalley explained that brainy ladies have an effect on their partner's brain similar to writing, reading, or visiting a museum.
Previous research has found a link between these types of intellectual challenges and a lowered risk of Alzheimer's (the most common form of dementia). But spending your life with an intelligent woman could be like spending your life with a living, breathing crossword puzzle.
"The thing a boy is never told he needs to do if he wants to live a longer life -- but what he should do -- is marry an intelligent woman," Whalley told the Daily Mail. "There is no better buffer than intelligence."
Slows the aging process
It's estimated that 47.5 million people worldwide currently live with dementia, and that number is expected to nearly double every 20 years. Certain childhood experiences can put people at risk for dementia, but later experiences can help reduce that risk.
"Studies have shown that the death of a mother before the age of five is a very important risk factor for dementia in later life," said Whalley. However, choosing an intelligent partner who provides interesting, mentally stimulating conversations could help prevent Alzheimer's.
A study revealed to scientists that environmental factors can also have a big impact on a person's mental health. In a side-by-side comparison of two brain scans, Whalley noted that people who showed physical signs of the illness but had no symptoms were "highly intelligent" and in "high-powered jobs."
---