---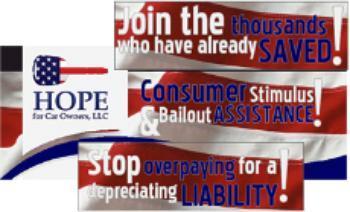 The Federal Trade Commission has put a stop to a California-based auto loan modification operation, settling charges that it allegedly deceived consumers with false promises that it could get auto loans modified and stop cars from being repossessed.
Patrick Freeman, the sole owner of the Hope for Car Owners operation, has agreed to a settlement with the FTC that bans him from marketing auto loan modifications and any other debt relief services. Freeman's company is in default.
In April 2012, the FTC alleged that Hope for Car Owners, LLC and Freeman charged hundreds of dollars in up-front fees, based on bogus promises that they could reduce consumers' monthly car loan payments and help avoid repossession of their vehicles.
Consumers left hanging
According to the FTC, the defendants' Websites and telemarketers promised consumers substantially lower monthly payments. The agency contends the defendants collected hundreds of dollars in up-front fees and told the consumers to stop paying their auto lenders, which often left them in worse shape than when they began, and increased the risk that their vehicles would be repossessed.
The FTC also alleged that once the up-front fees were collected, the defendants did nothing to obtain the promised loan modifications, and consumers who tried to get refunds were denied. In one case, for instance, Hope for Car Owners took $400 from a consumer and told her not to make any more payments on her vehicle, according to the FTC. The consumer followed the defendants' instructions, and her lender soon informed her that her vehicle was going to be repossessed.
Terms of settlement
Under the settlement order, Freeman is prohibited from making misrepresentations about financial products and any other product or service. He also is required to back up any claims about the benefits, performance, or efficacy of any product or service, and to destroy customer information obtained by the loan modification scheme within 30 days after the settlement order takes effect.
The settlement also imposes a $362,388 judgment, which will be suspended due to Freeman's inability to pay. If it is later determined that the financial information Freeman provided to the FTC was false, the full amount of the judgment will become due.
---