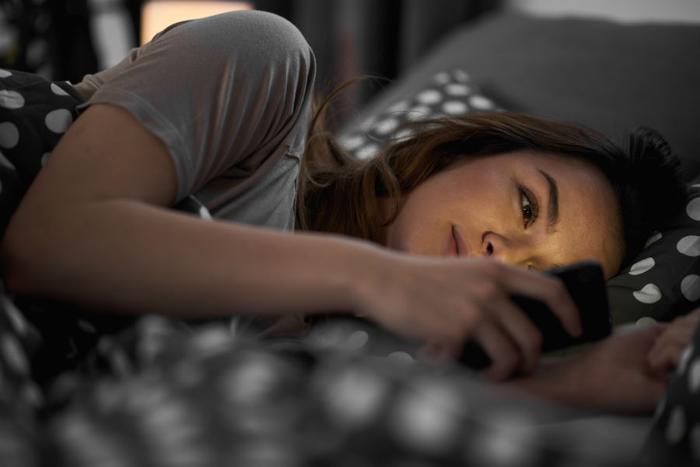 A study released Wednesday by the Pew Research Centers finds that more than half of teenagers (54 percent) think they spend too much time using their phone.
Pew found that 72 percent of the 743 teens surveyed either always or sometimes look at their phones right after they wake up. When forced to be without their phone, 56 percent said they felt either anxious, lonely, or upset.
Fifty-two percent of teens said they've made a conscious effort to scale back on the amount of time they spending using their phone; 57 percent did the same with social media.
About two-thirds of the 1,058 parents involved in the study expressed concern over how much time their children use their devices, with more than half stating that they have put restrictions on how often their teen can use their smartphone.
However, teens noted that their parents are often just as guilty of becoming distracted by screens.
Parents concerned about their own phone use
More than half of teens (51 percent) said they often or sometimes find their parents or caregivers distracted by screens when trying to have a conversation with them (72 percent of parents felt the same way about their teens).
Fifty-seven percent of parents said they check messages or notifications as soon as they wake up, and one-third of all parents polled admitted to using their phones "excessively."
''Kids don't always do what we say but they do as we do,'' said Donald Shifrin, a professor of pediatrics at the University of Washington School of Medicine, who was not involved in the Pew study. ''Parents are the door that kids will walk through on their way to the world.''
Combating tech addiction
This isn't the first study in which teens have expressed concern over their own device use.
In 2016, a survey by Common Sense Media found that more than half of U.S. teenagers believed they are addicted to their phones. Teens surveyed said they often felt pressure to respond to text messages immediately.
In response to the growing discontent surrounding devices and their addictive qualities, big tech companies have added new tools to make it easier for users to monitor and take control over how much time they spend using their device.
Apple announced in June that it will be releasing software that helps iPhone users monitor how much time they spend on their devices. Google recently announced that it will introduce "digital wellbeing" tools, such as screen time limits and a wind down option, to help users spend less time in front of their phones before bed.