---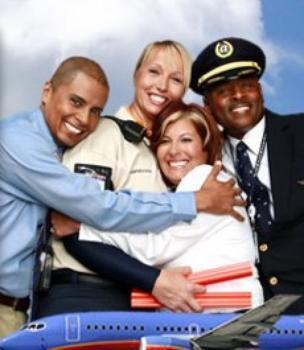 A Minnesota man says he was removed from Southwest Airlines flight and forced to delete a critical tweet he'd made about a rude gate agent before being allowed to fly home. Southwest, for its part, released a statement confirming that the man was indeed removed from the flight, with no mention of why.
Duff Watson initially told a CBS affiliate in Minneapolis that the dispute started over boarding procedures: Watson is an A-list flyer with Southwest and says he is used to boarding with his children, but this time, a gate agent in Denver wouldn't let his 6- and 9-year-old kids have priority boarding status with him.
"In leaving I said, you know, 'Real nice way to treat an A-list. I'll be sure to tweet about it.'" So he did. "Something to the effect of, 'Wow, rudest agent in Denver. Kimberly S, gate C39, not happy @SWA.'"
Watson and his children eventually boarded the plane, but before it took off, they were asked to leave the flight, allegedly because the gate agent said she felt threatened by Watson's tweet. Watson also said that the agent threatened to call police unless he deleted the tweet, so he did. (Watson's entire Twitter account has since changed to "protected" status, with access limited to confirmed followers.)
Watson's daughter Lucy said she was afraid her father would be arrested. "[The gate agent] said 'I'm going to call the cops .… I like thought something bad was going to happen, like my dad being in jail."
Once he deleted the tweet, he and his children were allowed back on board the plane.
Southwest has since reached out to Watson and offered him a $50 voucher for future flights, which Watson says he plans to donate to charity because "I'm not going to fly them again …. I wish I didn't back down, I wish I didn't delete the tweet. But under that quid pro quo situation, I did it."
---