---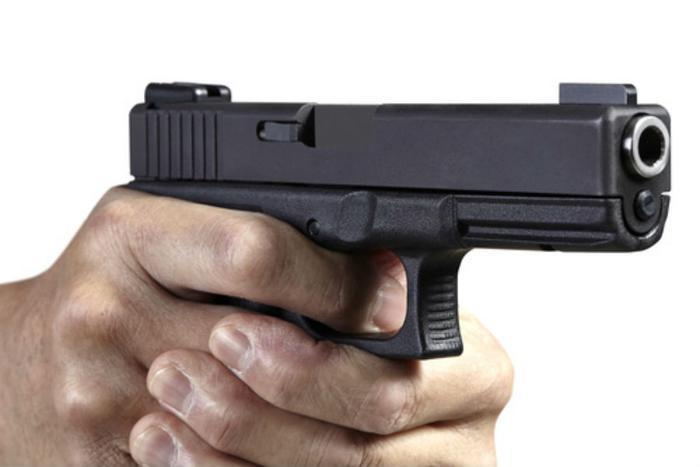 Consumers may be changing their views on the sale of firearms. A Gallup poll finds that a majority -- 55% -- say laws covering the sale of guns should be stricter, an increase of eight percentage points from 2014.
Fewer Americans than last year want the laws to be less strict, and the proportion who want the laws to stay the same has also declined slightly.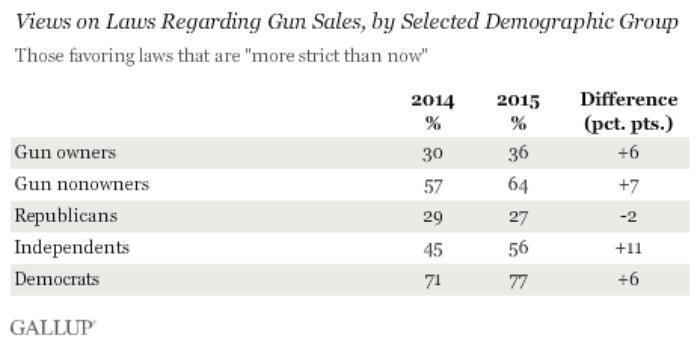 In 2007, the year of the Virginia Tech massacre, the percentage of Americans who favored stricter laws on gun sales dropped to a bare majority (51%) for the first time in several years. Since then, support for stricter laws had stayed under 50%, except in the wake of the Sandy Hook school shootings in Newtown, Connecticut, in December 2012.
At that point, 58% of Americans said they were in favor of stricter laws on gun sales. Although support for stricter laws receded after those shootings, in which Adam Lanza fatally shot 20 children and six adults, it has yet to return to the 44% level it was at before that tragedy.
The latest increase, from the Gallup Crime poll conducted Oct. 7-11, came in the days after the most recent high-profile mass shooting at a community college in Oregon. However, that event seems to have mainly affected Americans' views about laws on gun sales, but not other topics relating to guns.
Independents, Democrats fueling trend
The rise in the proportion of Americans who want stricter laws on firearm sales can be attributed partly to an increase among certain demographic groups. Support rose among Democrats and especially independents from 2014, and among those who do not personally own a gun. However, support increased even among those who say they own a handgun, from 30% in 2014 to 36% this year.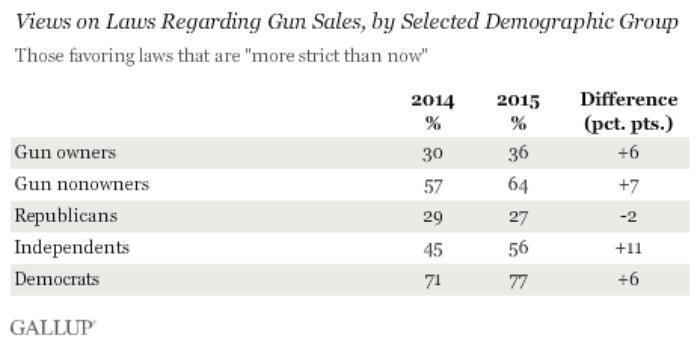 This doesn't mean that more Americans want to outlaw guns entirely. The percentage of Americans who favor a law providing that only authorized persons (including the police) would be allowed to possess handguns has remained low since the 1990s. This year, 27% -- near the record low -- say there should be this type of ban. This trend has been generally declining since Gallup began asking this question in 1959, when 60% said such a law should exist.
But while it may sometimes seem that everyone has a gun in America, that's not what Gallup found. Overall in the U.S., 43% say there is a gun somewhere in their household, and 28% say they personally own a gun.
Bottom Line
In a maelstrom of debate about guns, Americans have clear-cut views of at least some aspects of the debate. A majority in 2015 say gun sales should be regulated more strictly than they are now, which represents an uptick from last fall; however, it is still slightly lower than in December 2012, immediately after the Newtown school shootings.
But with mass shootings and individual homicides occurring with regularity, the debate will continue over whether there should be restrictions or amendments to firearms purchases or possession. Last week, California's Lt. Gov. Gavin Newsom said he will introduce a state ballot measure for next year that would require ammunition buyers to undergo background checks. President Barack Obama also said he may use executive authority to impose background checks for those purchasing weapons from high-volume firearms dealers.
These are just two examples of initiatives that may or may not gain traction with a public that is disturbed about mass shootings, but evidently divided about how to solve this persistent problem in the 2010s.
---