---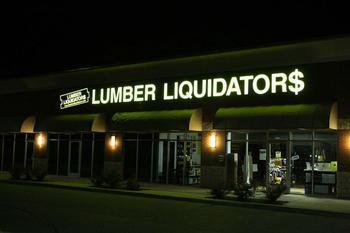 Lumber Liquidators and the California Air Resources Board (CARB) have resolved the state's inquiry into some of the company's laminate flooring imported from China.
The company said CARB concluded its review of the products without finding any violation of laws or regulations and the company has admitted no wrongdoing. Lumber Liquidators said it has not sold the flooring in question since May of 2015.
That's when a CBS "60 Minutes" broadcast alleged that some of the company's laminate flooring imported from China contained dangerous levels of formaldehyde.
Formaldehyde, a carcinogen, occurs naturally in many manufactured products, including paneling, cabinetry, and furniture. The company said formaldehyde may be present in some of the glues the company uses, but top executives at the time insisted the company complies with all regulations, including those required by CARB, generally considered the toughest in the nation.
Nonetheless, Lumber Liquidators suspended the imports days later.
Will pay $2.5 million
Under the agreement with CARB, the company will take a number of voluntary steps to make sure all of its products meet California's formaldehyde standards. It will also pay the state $2.5 million.
In return, Lumber Liquidators says it secured from CARB a recognition of the actions it has taken and "the lack of evidence of actual harm to public health, safety and welfare."
Company CEO John Presley said Lumber Liquidators has already implemented a number of initiatives he says will improve customer safety.
"We strengthened our quality assurance procedures, launched the largest voluntary testing program in our nation's history and, in May 2015, voluntarily suspended the sale of all laminate flooring sourced from China," he said in a statement.
Working with the state
Under the terms of the agreement, Lumber Liquidators said it will work with CARB to establish new industry standards for flooring product testing.
Meanwhile, the Centers for Disease Control and Prevention (CDC) estimated last month that laminate flooring sold at Lumber Liquidators had formaldehyde levels that, on a worst case basis, could cause between six and 30 extra cases of cancer for every 100,000 people breathing in the chemical daily.
---