---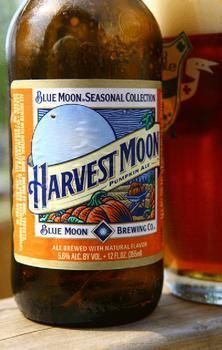 October used to be all about Halloween and pumpkins. For some beer drinkers, it's still all about pumpkins, but it has little to do with Halloween.
Walk down the beer aisle at your favorite supermarket and you see a splash of new inventory – pumpkin beer, or ale. According to Beer Advocate, these seasonal ales are quite varied.
In fact, brewers go about adding pumpkin flavor to their brews in different ways. Some actually cut up pumpkins and add them to the mash. Others use puree or pumpkin flavoring.
Adding some spice
There are also spices not normally associated with beer – things like ginger, nutmeg, cloves, cinnamon and allspice.
Pumpkin Ales are usually described as mild, with little or no bitterness. They're valued for their malty backbone and the spice that often takes the lead.
"In our opinion, best versions use real pumpkin, while roasting the pumpkin can also add tremendous depth of character for even better results, though both methods are time-consuming and tend to drive brewmasters insane," Beer Advocate opines.
But is beer a proper place to put a pumpkin?
Polarizing
The Boston Globe notes that pumpkin beer can be a polarizing topic this time of year. Some beer lovers can't get enough of it. Some can't stand the thought of it.
"Not interested in drinking pumpkin beer for any reason," the paper quotes one beer drinker emphatically saying.
But enough beer drinkers like the concoction sufficiently to make pumpkin beer highly profitable. Nearly every craft brewer puts out a product this time of year.
Samuel Adams describes its Harvest Pumpkin Ale this way: "Real pumpkin & warming spices like ginger, cinnamon & nutmeg give this brew a smooth, hearty, and inviting character perfect for the crisper days of fall."
Blue Moon says it first started brewing pumpkin ale in 1995, noting that Oktoberfest beers were flying off the shelves.
"For our version, we wanted to create a beer that was a little different than what was already out there and complemented the season by highlighting the flavors we've all grown to love during this time," the company says. "It was so popular that it became the first nationally available pumpkin ale."
Blue Moon now calls its product "Harvest Pumpkin Ale" and brews it with pumpkin and spices of cinnamon, nutmeg, cloves, and allspice.
While craft brewers may think they invented the drink, pumpkin ales apparently go way back in America. An 1801 publication included pumpkin in a list of ingredients for some types of early beers. It noted that pumpkin was often added for health benefits – allowing pumpkin ale drinkers to truthfully say they are drinking it purely for medicinal purposes.
Thanks
Keep an eye on your inbox, the lastest consumer news is on it's way!
Unsubscribe easily whenever you want
---