---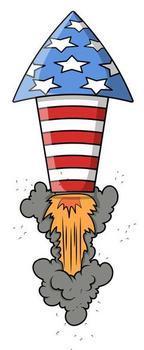 States have been loosening fireworks laws and emergency doctors say the result has been an increase in both the number of injuries to children and the severity of the injuries.
In a study presented at a meeting of the Pediatrics Academic Societies in Baltimore, researchers looked at federal and state data from the National Inpatient Sample, with data on 8 million hospital stays each year, and the Nationwide Emergency Department Sample, which annually compiles information on 30 million discharges from emergency medicine facilities.
They found that the number of patients under age 21 treated and released by emergency departments between 2006 and 2012 rose modestly. Significantly larger increases were seen in injuries requiring inpatient hospital admission, which skyrocketed from 29% of cases in 2006 to 50% in 2012.
"The increase in fireworks-related injuries and the severity of these injuries in children since 2006 are very concerning," said Charles Woods, MD, FAAP, one of the study's authors and associate chair of pediatrics at the University of Louisville.
"Although our findings do not prove a direct link to relaxations in state laws governing fireworks sales, it may be time for lawmakers to reassess this issue. Parents and caregivers of children also should be aware of these increasingly serious injuries and the potential dangers involved in allowing young children to handle and play with fireworks," he said.
Findings mirrored
The findings mirror those of other studies. In 2014, the Consumer Product Safety Commission (CPSC) reported that there were eight deaths and an estimated 11,400 injuries related to fireworks in 2013, compared with 8,700 injuries in 2012. 
Injuries were frequently the result of the user playing with lit fireworks or igniting fireworks while holding the device, CPSC researchers said.
Consumers also reported injuries related to devices that malfunctioned or devices that did not work as expected, including injuries due to errant flight paths, devices that tipped over, and blowouts.
In 2013, children younger than five years old experienced a higher estimated per capita injury rate than any other age group. Sparklers and rockets accounted for more than 40% of all estimated injuries.
---