---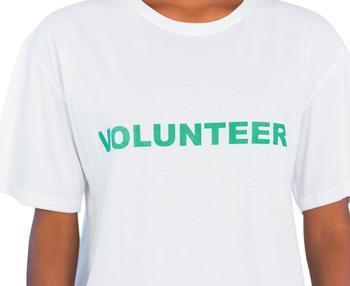 It is -- unfortunately -- a fairly common problem these days: out of work and no real job prospects even though you're highly qualified. Here's a thought: Try working for free for a while.
A new survey from Deloitte found that human resources (HR) executives agree that skills-based volunteering enhances the job prospects for graduating college seniors and returning military veterans. However, despite challenging economic times, less than half of the college students (46%) and military personnel (48%) surveyed think of volunteering at a nonprofit as a way to develop skills and gain the experience needed to land a future job.
They're impressed
The 2013 Deloitte Volunteer IMPACT Survey polled HR executives, college seniors and military veterans. Here's what they heard from the HR execs:
When evaluating a job candidate, experience gained through skilled volunteering would be taken into account (81%)

Skilled volunteer experience makes a job candidate more desirable (76%)

Skilled volunteer experience makes a college graduate more desirable (81%)

Skilled volunteer experience makes a serviceman more desirable (78%)
With unemployment still high (7.4% in July), findings from the study are particularly pertinent to the population that was surveyed. This includes recent college grads who are unemployed, underemployed and may be carrying college-related debt, as well as unemployed post 9/11 veterans, based on the Bureau of Labor Statistics, amongst those in the 20-24 age range.
Gaining an edge
"It is clear that the skills and experience gained through volunteering offer a competitive edge," said Evan Hochberg, national director, Community Engagement, Deloitte Services LP. "However, when more than half of college grads and returning veterans don't consider volunteering to improve their employability, there is work to be done to help them see the upside of volunteer bridging as a viable job search option."
The 2013 Deloitte Volunteer IMPACT Survey findings add to other recent research supporting the benefits of volunteerism, notably findings from the Corporation for National and Community Service (CNCS) -- Volunteering as a Pathway to Employment.
"Many of us in the volunteer sector have long felt volunteering gives a boost to those looking for work, but we've never had solid research to back it up," said Wendy Spencer, CEO of CNCS. "These reports provide strong evidence that volunteering is beneficial for jobseekers. Whether serving in AmeriCorps or sharing your professional skills at a nonprofit, volunteering can provide the skills, contacts, and leadership qualities that make you stand out in a competitive job market."
Importance of volunteering
As expected, the survey also confirmed that volunteerism -- both traditional and skilled -- is encouraged at many organizations through corporate citizenship programs. Responses indicate that most HR executives believe volunteering is beneficial for their employees (65%), and contributes toward a positive reputation (88%). From an internal standpoint, slightly more than half of the HR executives surveyed (52%) say volunteerism is an important element of their organization's culture.
"As passionate advocates of skilled volunteerism and pro bono service in our communities, we are excited about its benefits as a bridge to employment," said Joe Echevarria, chief executive officer, Deloitte LLP. "These findings align with our efforts to foster a college going culture, support returning veterans, and in the process make our communities and America stronger."
---