---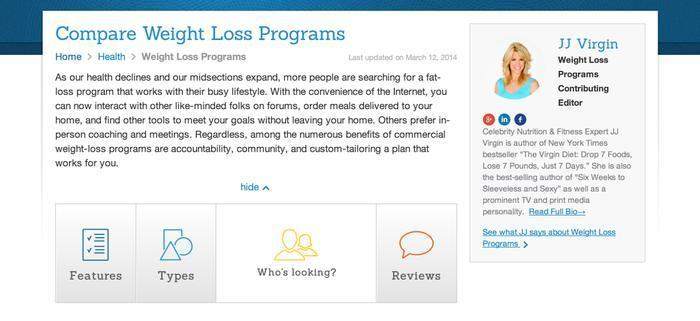 Just about everybody wants to lose weight, it seems. And there's no shortage of advice about how to do it. But for those looking for a safe, effective and affordable plan, it can be difficult to work through all the competing claims.
ConsumerAffairs contributing editor and weight loss expert JJ Virgin cuts through the confusion with her new buyer's guide that outlines the different kinds of weight loss programs, their features and the types of consumers most likely to benefit from them.
Perhaps the most important feature of any plan is the food, Virgin says: "Ask yourself: Realistically, could you eat the foods on this plan more or less for the rest of your life?"
Besides taste, consumers should consider the cost and availability of competing food plans, as well as the potential for allergic reactions and sugar and sodium content.
Crucial factors
Then there's the matter of meal plans. "If you prefer home-cooked meals, packaged shakes and shakes aren't going to work for you; likewise, if a plan demands elaborate meals and you need convenience, you'll probably struggle with the plan," says Virgin, author of the New York Times best-seller "The Virgin Diet: Drop 7 Foods, Lose 7 Pounds, Just 7 Days."

Long-term sustainability is another crucial factor.
"Maintaining fat loss is just as important as losing it. Does a plan provide the tools and strategies you need to stay lean for the long haul?" Virgin says, noting that many plans will produce a dramatic short-term loss while doing little to help keep pounds off over time.
No single plan is best for everyone, Virgin notes, discussing the varying needs of busy adults, college students, seniors, new moms and former athletes, among others.
She rates well-known plans for each type of consumer. For example, Virgin finds that Nutrisystem is best for college students, busy adults and new moms but no so good for dieters with food sensitivities and those on a budget.
---