---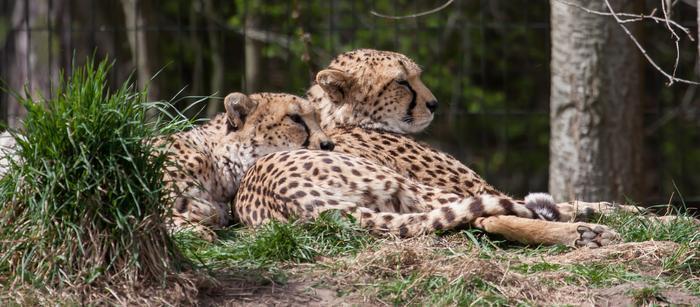 There's never really a good time to be the sort of person who believes that lions and tigers are just as harmless and cuddly as your own adorable pet puddytat. But this past week has been an usually badtime to be that sort of person.
First: lawmakers in New York state passed a bill, first proposed by state assemblywoman Linda Rosenthal, that bans posing for photos with tigers or other big cats.
Rosenthal's bill is believed to be in response to the popular blog "Tinder Guys with Tigers" which -- as you probably guessed after reading the name -- is a blog, on Tinder, dedicated to photographs of guys (not girls) posing with tigers.
The bill passed the state legislature, though whether the governor will actually sign it into law remains to be seen.
Rosenthal told the New York Post that "They can still pose with bears and monkeys … They just have to take big cats off their list."
The bill, which Rosenthal first proposed in March (though it remained largely unnoticed until the Post's recent story about it) is actually an amendment to state environmental conservation laws, and says: "The environmental conservation law is amended by adding a new section 11-0538 to read as follows: S11-0538. DIRECT CONTACT BETWEEN PUBLIC AND BIG CATS PROHIBITED."
Posing penalties
Anyone who violates the law can be fined $500 for the first offense and $1,000 subsequently, though from the way it's written, it's unclear whether the prohibitions and fines apply to the people who actually pose for photos with big cats, or the cat's "dealer" or "exhibitor."
The bill says (in all-capital letters) that "It shall be unlawful for any person licensed or required to be licensed as an exhibitor or dealer pursuant to the animal welfare act, 7 USC 2132-2134, including agents or employees of such person, to knowingly allow the public to have direct contact with a big cat. Any person who violates the provisions of this section shall be subject to a penalty of not more than five hundred dollars for the first offense and not more than one thousand dollars for a second and subsequent offenses."
But the bill only mentions "dealers" and "exhibitors," not "ordinary people who pose for photos, whether posted on Tinder or not."
The bill applies to tigers, leopards, lions, mountain lions/cougars, panthers, jaguars "or any hybrid of such species."
Tennessee ban
If the bill is signed into law, it will effect every big-cat-lover in New York State. But the other piece of big-cat-ban-related news from this week, out of Tennessee, applies to only one person: the unidentified woman who was banned for life from the Memphis Zoo after she climbed into the lion enclosure in an attempt to feed cookies to its inmates.
Zoo spokeswoman Abbey Dane said it was the second time in a week that the woman had attempted to feed cookies to the lions. "Last week she was noticed by our security staff throwing objects into the lion exhibit; at that time she was asked to leave the zoo ….[this time] She was asked to leave the zoo permanently. She will not be granted access to the zoo anymore."
---