---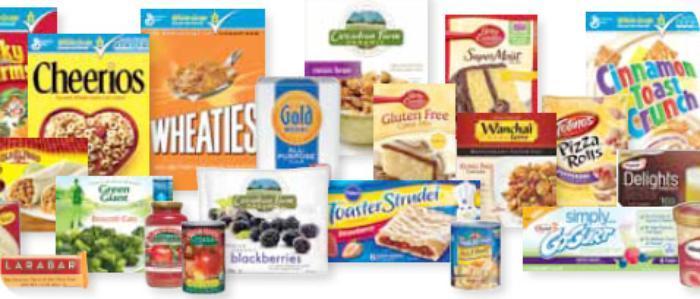 If you "like" General Mills food products (in the Facebook sense of the word) you'd better "unlike" them right away, and unsubscribe to any General Mills email promotions and terminate any online contact with the company while legal experts hash out whether General Mills' new posted legal terms will actually hold up in court.
For now, the food conglomerate (which includes Betty Crocker, Pillsbury, Green Giant, Progresso, Old El Paso and sundry other brands) is basically saying that if you ever download a General Mills coupon, enter a General Mills sweepstakes, or have any sort of online interaction with General Mills, you have no right to sue General Mills if anything goes wrong.
The New York Times first noted this on April 16 and, lest you think "Well, maybe General Mills made a mistake when they wrote that no-sue stuff, and didn't realize their new legal terms could be interpreted thus-and-so," bear in mind that when the Times reported the story and summarized the changes, it also said this:
"In language added on Tuesday [April 15] after The New York Times contacted it about the changes, General Mills seemed to go even further, suggesting that buying its products would bind consumers to those terms."
Here are the terms General Mills wants you to agree to (in bold-print, underlined, all-capital letters):
ANY DISPUTE OR CLAIM MADE BY YOU AGAINST GENERAL MILLS ARISING OUT OF OR RELATING TO THIS AGREEMENT OR YOUR PURCHASE OR USE OF ANY GENERAL MILLS SERVICE OR PRODUCT (INCLUDING GENERAL MILLS PRODUCTS PURCHASED AT ONLINE OR PHYSICAL STORES FOR PERSONAL OR HOUSEHOLD USE) REGARDLESS OF WHETHER SUCH DISPUTE OR CLAIM IS BASED IN CONTRACT, TORT, STATUTE, FRAUD, MISREPRESENTATION, OR ANY OTHER LEGAL THEORY (TOGETHER, A "DISPUTE") WILL BE RESOLVED BY INFORMAL NEGOTIATIONS OR THROUGH BINDING ARBITRATION, AS DESCRIBED BELOW.
What happened? General Mills made some changes to its online policies in early April and then on April 15, presumably inspired by the New York Times' requests for comment (which General Mills declined to answer), someone at General Mills changed the privacy-policy page to put this in small print at the very top:
We've updated our Privacy Policy. Please note we also have new Legal Terms which require all disputes related to the purchase or use of any General Mills product or service to be resolved through binding arbitration.
If you click on the "Legal Terms" page and scroll down a bit, you'll find this:
These terms are a binding legal agreement ("Agreement") between you and General Mills. In exchange for the benefits, discounts, content, features, services, or other offerings that you receive or have access to by using our websites, joining our sites as a member, joining our online community, subscribing to our email newsletters, downloading or printing a digital coupon, entering a sweepstakes or contest, redeeming a promotional offer, or otherwise participating in any other General Mills offering, you are agreeing to these terms.

Of course, your decision to do any of these things (i.e., to use or join our site or online community, to subscribe to our emails, to download or print a digital coupon, to enter a sweepstakes or contest, to take advantage of a promotional offer, or otherwise participate in any other General Mills offering) is entirely voluntary. But if you choose to do any of these things, then you agree to be bound by this Agreement.
So, they're saying, you don't have to use our coupons, enter our contests or visit our websites, but if you do then you are legally bound to not-sue us.
But what if ...
Hypothetically: suppose your child has a peanut allergy severe enough that you make a point of avoiding any product with the "May contain peanuts" warning on the label. You buy a General Mills product which has no warning, so you assume it is safely peanut-free, but it actually contains enough peanut traces to cause a severe allergic reaction.
If you used a downloaded coupon to buy that product, or if you've so much as "liked" the Facebook page of a General Mills cereal then, according to the new legal terms (and assuming the courts agree to them), that means you have no right to sue the company, only settle for arbitration.
As General Mills pointed out, your decision to do anything General Mills-related online was entirely voluntary. It's also voluntary to buy General Mills products in the first place, and it might be a good idea to voluntarily forgo buying food from any seller who adopts a pre-emptive "You can't sue us if we screw up" policy.
That said, if you want to buy General Mills products without being subject to this agreement, the "Legal Terms" page does offer you this:
You may terminate this Agreement by providing us with written notice of your desire to do so by emailing us at legal.terms@genmills.com. Please include your first and last name and the year in which you were born in the email.
And remember to "unlike" any General Mills Facebook pages, remove yourself from any other General Mills social media groups, unsubscribe to any General Mills emails you receive, and so forth. Otherwise:
Any such termination will not be valid if you remain (at that time) a user or member or any of our sites or communities, a subscriber to any of our emails, or a participant in any sweepstakes, contest, or other General Mills offering where these terms have been presented. You can cease to be a member of our sites and online communities at any time by following the instructions in the terms of use provided at the website where the site or online community is located. You can cancel your subscription to any of our emails by clicking "unsubscribe" at the bottom of those emails and following the instructions provided.
---