---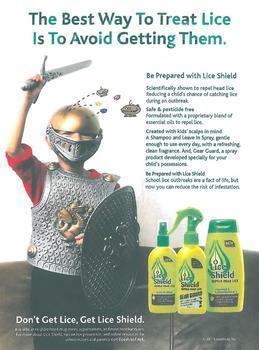 It would be great if a simple shampoo or spray could repel head lice but the Federal Trade Commission says that the maker of "Lice Shield" products has not presented any scientific proof that its products can do that.
Lornamead, Inc. has agreed to pay $500,000 and stop making deceptive claims about its products, which are widely advertised and sold in stores including Albertsons, CVS, Safeway, Rite Aid, ShopRite, Walgreens, and WalMart.
"As any parent knows, an outbreak of lice can wreak havoc," said Jessica Rich, Director of the FTC's Bureau of Consumer Protection. "When marketers say their products can be used to avoid these pests, they'd better make sure they can back up their claims."
Misleading claims
Unlike traditional head lice treatments, or pediculicides, Lornamead markets its Lice Shield products for preventing rather than treating head lice infestations. Lornamead claimed in print ads, website and banner ads, and on product packaging, that the citronella and other essential oils in its Lice Shield products would "dramatically reduce" the risk of head lice infestations, according to the complaint.
The company claimed that the best way to treat lice was to avoid getting them, with Lice Shield products that are "scientifically shown to repel head lice."
The proposed order requires Lornamead to have at least one well-controlled human clinical study supporting its claims that Lice Shield products and other drugs, cosmetics or pesticides it markets will shield consumers from pediculosis; reduce the risk of an infestation by a specific percentage or amount; repel all lice; or repel a specific percentage or amount of lice.
For any other claims it makes about repelling lice or reducing the risk of infestation, and for claims it makes about the health benefits of any drug, cosmetic, or pesticide, the company is required to have competent and reliable scientific evidence. The proposed order also prohibits Lornamead from misrepresenting any tests, studies, or research when marketing such products.
For consumer information about avoiding head lice, see the "Heading off Head Lice" portion of the FDA publication Treating Head Lice, which advises avoiding head-to-head contact, and not sharing items such as hats, scarves, helmets, combs, and brushes.
---