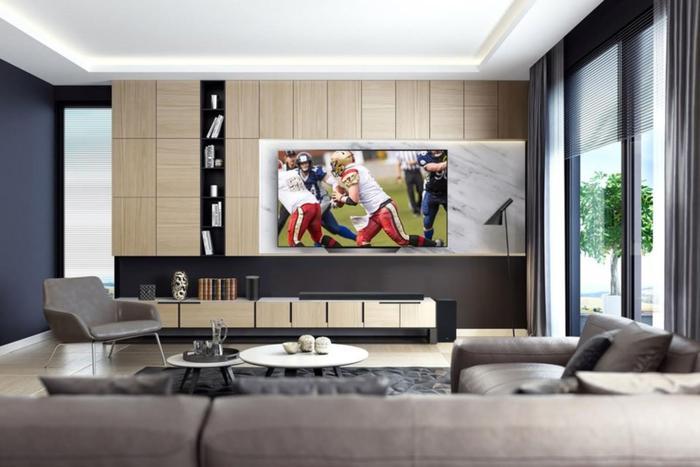 LG has put its top-of-the-line OLED TV on sale just in time for the Super Bowl. The 55-inch B Series OLED TV is now on sale for $1,500 while the 65-inch version has been marked down to just under $2,300.
The price of the 55-inch set is $100 less than the Black Friday price while the 65-inch model is priced $200 less than it sold for on the day after Thanksgiving.
Tech site CNET, not accustomed to enthusiasm about products, practically gushed at this sale.
"LG's Super Bowl discount on the B8 might not be its lowest in history, but if you're in the market for a high-end TV and can afford an OLED -- in short, if you've been waiting for this price drop -- now is the time to buy," writes CNET's David Katzmaier.
Another tech site, The Verge, is also enthusiastic about the set and the new price. It reports that 4K OLED sets have excellent picture quality and richer contrast than you get from an LED screen. It says several retailers are already advertising the sets at the sale prices.
Ideal for sporting events
Large screen 4K TV sets are ideal for watching sporting events, especially football games. In fact, some have blamed declining attendance at NFL games over the last two seasons in part on the fact that you get a much better view sitting on your couch at home. The beer is also less expensive.
Why is LG discounting its sets now? In fact, it's not unusual to find sales on TV sets just before the Super Bowl. Also, LG and other manufacturers will be rolling out their 2019 models in about three months and they will likely stay at their regular price until Black Friday.
In addition to new versions of its current OLED sets, LG is also getting ready for even more expensive high-end TV sets, such as the one displayed at last week's Consumer Electronics Show (CES) in Las Vegas.
Roll-up screen
LG's OLED TV R achieved a high degree of visibility at the show because it's invisible, at least when it isn't turned on. To activate the set, a user pushes a button on the remote and the base opens up, allowing the screen to rise as it unfurls.
Once deployed, it looks like most high-end big-screen TVs. It measures 65 inches and displays 4K resolution on an OLED screen. The electronics reside in the base while the thin screen has only one job, to display video.
This TV is not yet on the market, but LG said it expects to launch it in the second half of the year. So far, the company is keeping mum on pricing, but you can be sure it won't be a sale price for quite a while.