---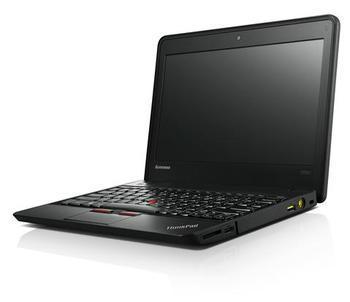 Google's Chromebook got off to a slow start but has been steadily gaining ground, bringing simplicity, durability and low cost to the laptop market.
The latest addition to the line-up comes from Chinese giant Lenovo, which today announced the ThinkPad X131e Chromebook -- which the company describes as a fast booting, highly customizable laptop PC built with rugged features for the daily rigors of K-12 education.
Throughout the course of a typical school day, students' laptops are often subject to extreme wear and tear, the company noted. To help school-proof them, the ThinkPad X131e has rugged features including a rubber bumper around the top cover and stronger corners to protect the system in the case of an accidental drop. The hinges and hinge brackets are also strengthened to last more than 50,000 open and close cycles.

"The ThinkPad X131e has proven to be very successful in education environments," said Jerry Paradise, executive director of product marketing, ThinkPad Product Group. "With the rugged features we added to the X131e, we've seen reduced failure rates in the field. This is a huge benefit to schools and students. We're pleased to be able to offer this hardened ThinkPad Chromebook as a great computer for schools."
The $429 11.6-inch X131e laptop features an Intel processor, a 1366x768 HD LED anti-glare screen, and three USB ports. At less than four pounds1 and battery life for the entire school day, students can easily carry the laptop between classes without the need to recharge.
Third manufacturer
Lenovo becomes the third Chromebook manufacturer, joining Samsung and Acer. The machines run the Chrome OS operating system, a variant of Linux. They contain a small hard drive that is used primarily to boot up, relying on the cloud for programs and data storage.
"Chromebooks are in use today by more than 1,000 K-12 schools, and they make an ideal one-to-one device because they're more cost effective, easier to manage and maintain than traditional laptops or tablets," said Caesar Sengupta, director of product management, Chrome OS, Google. "Lenovo has a great reputation in schools for making durable and reliable laptops, so we're excited to partner with them to introduce the ThinkPad X131e Chromebook."
---