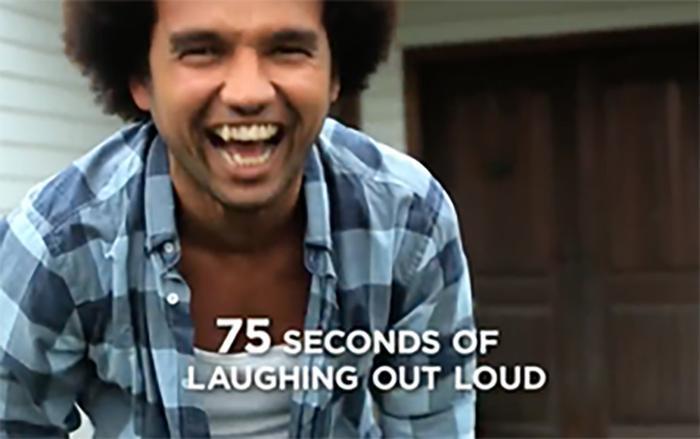 Sugar is no joke, says a lawsuit that accuses the Coca-Cola Company and the American Beverage Association of downplaying the health risks of sugary soda.
The suit, filed by the nonprofit Praxis Project, takes issue with commercials that claim even small amounts of exercise -- like laughing for 75 seconds -- can negate the effects of the sugar in a 12-ounce can of regular Coke. The Praxis suit says the commercials are deceptive. 
"From the 1950s until the late 1990s, the tobacco industry engaged in an elaborate campaign of disinformation to cast doubt on the science connecting cigarettes to lung cancer and other diseases," said Maia C. Kats, litigation director of the nonprofit Center for Science in the Public Interest, which is providing legal counsel to Praxis.  "Today the soda industry is engaged in its own campaign of disinformation to cast doubt on the science connecting sugar-sweetened beverages to obesity, and obesity-related diseases like diabetes and cardiovascular disease."
Kats said the lawsuit "seeks to stop Coke and the ABA from deceiving the public on the science linking obesity and related diseases to regular consumption of sugar-sweetened beverages."  
Praxis describes itself as "a movement support intermediary committed to capacity building for social change." CSPI is a longtime crusader for safer food and beverages.
As an example, the groups cite a YouTube commercial (below), "Be OK," as "spreading misinformation" by suggesting that "exercise, even small amounts like laughing or bowling, can offset the harmful effects of drinking soda."
"Happy calories"
The video notes that the "140 happy calories" in a 12-ounce can of regular Coke can be spent on "extra happy activities" such as 25 minutes of dog walking, 10 minutes of dancing, or 75 seconds of laughing out loud. 
The complaint also cites numerous alleged examples of Coca-Cola and ABA officials making false and deceptive statements about sugar-sweetened drinks.  For example:
Coca-Cola's senior vice president, Katie Bayne, claims that "[t]here is no scientific evidence that connects sugary beverages to obesity." 
"Coca-Cola is an excellent complement to the habits of a healthy life," said former Coca-Cola chairman and CEO Douglas Ivester. 
"There is no unique link between soda consumption and obesity," claims a post on the ABA's website.
"Simply put, it is wrong to say beverages cause disease," the ABA stated in another release. 
Coke's incoming CEO, James Quincey, equated sugar-sweetened beverages to any other calories, dismissing their unique contribution to the obesity epidemic by asserting such beverages contribute only two percent of calories overall.
Coca-Cola called the suit "legally and factually meritless." In a prepared statement, the company said: "We take our consumers and their health very seriously and have been on a journey to become a more credible and helpful partner in helping consumers manage their sugar consumption."
The suit was filed in a California federal court Wednesday.