---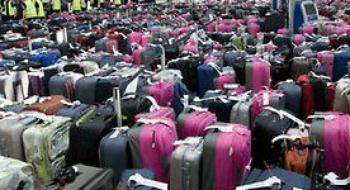 A class action lawsuit charges that United Airlines often sends passengers' baggage on alternative flights to leave room for profitable last-minute express cargo. It alleges that the practice puts passengers and crew at risk of terrorist bombings.
The suit cites the 1988 downing of a Pan Am 747 over Lockerbie, Scotland, as an example of how a bomb in unaccompanied luggage can bring down an airplane.
Plaintiff Kathleen Watson says she became aware of the practice when her luggage did not show up in Honolulu after she and her husband flew from Seattle, Courthouse News Service reported. It turned out the bags were on another flight that arrived a short time later.
Watson says a baggage supervisor said that that United Airlines has a policy of placing passenger bags on the next available flight so as to leave space for air cargo. The flight with the Watsons' bags had been scheduled to leave before the Watsons' flight did but was delayed.
"Everybody does it"
The supervisor insisted the practice is not illegal and gestured toward the Delta and American baggage carousels — where people were waiting for bags on similarly delayed flights — saying, "Everyone does it," the Watsons say in their complaint. 
After the Lockerbie bombing, restrictions were put in place that prevent loading unaccompanied luggage, but no such restrictions apply to domestic flights.
The suit alleges the practice shows a "wanton disregard" for passenger safety.
---