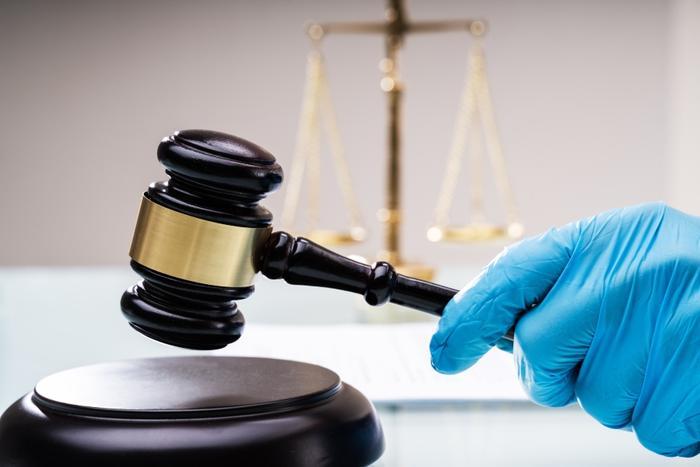 Amazon has been hit with a lawsuit accusing it of failing to adequately protect its warehouse workers, specifically at a fulfillment center in New York. 
One of the plaintiffs, Barbara Chandler, believes she contracted COVID-19 in March while working at a warehouse in the state. She claims she experienced "a culture of workplace fear reinforced by constant technological supervision, retaliation against those who speak out, and the threat of automatic and immediate job loss in a job market where it may be impossible to find work elsewhere." 
She says she brought the virus home to her family, and her cousin died less than a month later after experiencing COVID-19 symptoms. Several other Amazon workers are plaintiffs in the suit.
The group of warehouse employees and their relatives say Amazon failed to enforce safety measures to keep workers and their families from contracting COVID-19. The lawsuit doesn't seek damages, only "an order requiring Amazon to comply with public health guidance to prevent more harm in the future." 
Criticism over safety standards
Amazon has faced criticism from workers and lawmakers alike over its handling of the coronavirus outbreak. Lawmakers have previously accused the company of not doing enough to protect warehouse workers. 
Some workers have said they were still required to work in close proximity during the coronavirus outbreak, and others said they feared they would be fired for speaking out about their concerns. 
Amazon fired at least four workers who were outspoken about their experience working at a warehouse during the pandemic, prompting the National Labor Relations Board (NLRB) to look into the matter. 
'Facade of compliance'
The lawsuit filed this week in federal court in New York is different from others like it because it accuses the company of causing the death of the plaintiff's cousin. 
"Amazon's failures have already caused injury and death to workers and family members of workers. At least one JFK8 worker has died from COVID-19, and there are rumors of additional deaths among JFK8 workers. Workers have brought the virus home to family members, some of whom have also tragically died," the complaint says. 
Chandler and the other plaintiffs claim that, in actuality, Amazon created a "façade of compliance" with safety standards in the midst of the pandemic. The complaint accuses Amazon of purposefully miscommunicating with workers, engaging in "sloppy" contact tracing, and instilling a "culture of workplace fear" at JFK8 to "ensure it can maintain productivity while reducing costs."
Subsequently, workers "come to work sick and cannot engage in proper hygiene, sanitizing, or social distancing while at work in order to stay healthy," the suit claims.
Amazon responds
Amazon's measures to deal with the outbreak in terms of both the surge in demand and worker safety have included implementing hazard pay, expanding sick policies, and adding 175,000 new warehouse and delivery workers. 
The company says it has updated 150 processes to protect worker safety and spent more than $800 million in the first half of this year on new safety programs.
"We are saddened by the tragic impact COVID-19 has had on communities across the globe, including on some Amazon team members and their family and friends," said Amazon spokesperson Lisa Levandowski in a statement. "From early March to May 1, we offered our employees unlimited time away from work, and since May 1 we have offered leave for those most vulnerable or who need to care for children or family members."