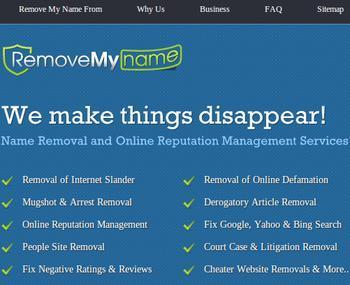 A group of websites and their owners are being accused of posting false information about an attorney and then offering to remove the postings for $699. The attorney charges that practice amounts to extortion and racketeering.
The lawsuit names Grambling T. Dominique Jr. a/k/a Ernest Eugene Slade, Truth in Posting LLC, Margaret Pickard and the unknown persons who operate the websites ReportYourEx.com, RemoveNames.com, RemoveMyName.com and RemoveAPosting.com, in Federal Court.
The attorney, whose identity is not being revealed, claims the defendants violated RICO laws "through a pattern of racketeering activity, including, but not limited to extortion of plaintiff by requiring payment to remove defamatory statements from the website ReportYourEx.com," Courthouse News Service reports.
The suit claims the sites "knowingly and maliciously portrayed the plaintiff in an entirely false light, as a victim of domestic violence, committing criminal acts ... and violating bar ethical rules, amongst other false allegations."
The suit says the false allegations were published on ReportYourEx.com. When she tried to have them removed, the site allegedly referred her to RemoveMyName.com and other sites that charge fees ranging from $199 to $699 to remove the false postings.
The suit accuses the sites and their operators of defamation, libel, intentional infliction of emotional distress and conspiracy to violate RICO law.