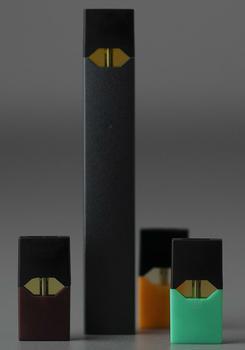 In a lawsuit filed Tuesday, a former Juul executive accuses the e-cigarette maker of shipping a million contaminated pods earlier this year and not issuing a recall, according to BuzzFeed News.
The suit was filed by Siddharth Breja, Juul's former senior vice president of global finance. Breja said he attended an executive meeting back in March, during which it came to his attention that Juul had shipped approximately 250,000 Juul "mint refills kits" (the equivalent of one million pods). 
The former executive claims that he pushed Juul to issue a product recall or public safety notice, but Juul allegedly dismissed the idea since doing so would cost it billions of dollars. Breja claims he was fired a week after expressing concern about the contaminated pods.
According to the lawsuit, former CEO Kevin Burns -- who was replaced by former Altria executive K.C. Crosthwaite in September -- responded to Breja's concerns by saying: "Half our customers are drunk and vaping like mo-fo's, who the f*** is going to notice the quality of our pods?"
In a statement to BuzzFeed News, Breja's lawyer Harmeet Dhillon said that his client "became aware of very concerning actions at the company, and he performed his duty to shareholders and to the board by reporting these issues internally." 
"In exchange for doing that, he was inappropriately terminated," Dhillon continued. "This is very concerning, particularly since some of the issues he raised concerned matters of public safety."
Juul responds
Juul called Breja's claims "baseless" and refuted the claim that he was fired after voicing concerns about the contaminated pods. 
"He was terminated in March 2019 because he failed to demonstrate the leadership qualities needed in his role," a company spokesperson said in a statement issued to various media outlets. "The allegations concerning safety issues with Juul products are equally meritless, and we already investigated the underlying manufacturing issue and determined the product met all applicable specifications." 
Juul added that it intends to "vigorously defend this lawsuit."
Juul has been singled out for fueling the current vaping epidemic, as its flavored products have been found to appeal to younger users. At this point, however, the current outbreak of lung illnesses tied to vaping hasn't been linked to Juul specifically. Health officials say a majority of the more than 1,600 people who have gotten sick reported using THC-containing products.
The vaping industry itself is still under intense scrutiny as investigators seek to uncover a more specific cause behind the sudden rise in vaping-related lung illnesses and deaths.