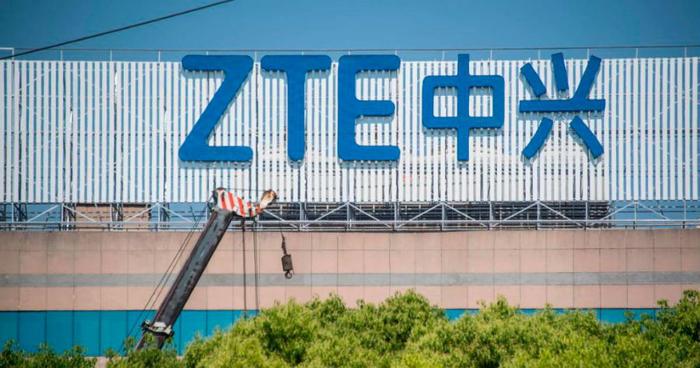 Days after President Trump offered an unexpected lifeline to China by tweeting that he and Chinese President Xi Jinping were "working together" to give ZTE "a way to get back into business, fast," U.S. lawmakers are pushing back on the president's talk of abandoning legislation that prevents the company from doing business with the U.S.
ZTE was banned from receiving parts and components from American suppliers for seven years after it violated the terms of a 2017 settlement created after it breached sanctions on Iran and North Korea.
Trump's decision to revisit the penalty came as a surprise to many as it appeared to represent a drastic shift from his "America First" stance. On Monday, Trump defended his earlier pledge to help the company.
"ZTE, the large Chinese phone company, buys a big percentage of individual parts from U.S. companies. This is also reflective of the larger trade deal we are negotiating with China and my personal relationship with President Xi," he said in a tweet.
However, lawmakers have expressed concerns that equipment made by the telecommunications firm could pose a security threat.
Question of security
Senator Marco Rubio (R - Fla.) tweeted Monday that the U.S. would be "crazy" to allow ZTE to operate in the U.S. "without tighter restrictions."
"Any telecomm firm in #China can be forced to act as a tool of Chinese espionage without a court order or other review process," Rubio said.
"I hope the administration does not move forward on this supposed deal I keep reading about," Rubio said at a Foreign Relations Committee hearing on Asia policy, referring to a potential arrangement that would ease the ban on ZTE in exchange for elimination of new Chinese tariffs on certain U.S. farm products, first reported by the Wall Street Journal.
"They are basically conducting an all-out assault to steal what we've already developed and use it as the baseline for their development so they can supplant us as the leader in the most important technologies of the 21st century," Rubio added.
Senate Democratic Leader Chuck Schumer called the plan "a bad deal if there ever was one."
"The toughest thing we could do, the thing that will move China the most, is taking tough action against actors like ZTE," Schumer said. "But before it's even implemented, the president backs off. This leads to the greatest worry, which is that the president will back off on what China fears most — a crackdown on intellectual property theft — in exchange for buying some goods in the short run."
The U.S. and China are preparing to continue trade talks in Washington this week, which some say is a key reason Trump has decided to revisit the ban.
"A reversal of the ZTE decision could temporarily tamp down trade tensions by allowing the Chinese to make concessions to the U.S. without losing face," Eswar Prasad, a professor of trade policy at Cornell University, told The Associated Press.
"Trump may have recognized that backing off on ZTE clears the path for him to claim at least a partial victory in the US-China trade dispute based on the concessions the Chinese seem prepared to offer," Prasad said.