---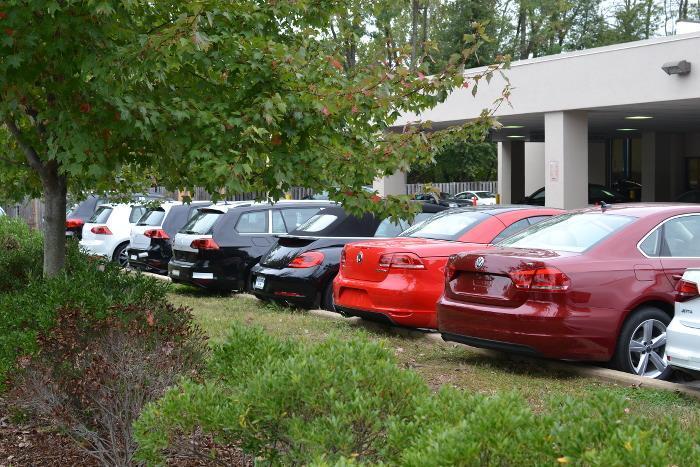 Just about everybody is mad at Volkswagen these days, including VW dealers. Now, a group of three dealers have filed a class action suit against the German automaker, saying it intentionally defrauded dealers and consumers with its illegal "defeat devices."
The lawsuit, filed today in federal court in Illinois, charges that VW's deception, coupled with the drop in value of diesel vehicles, the inability of franchise dealers to sell diesel vehicles, and the loss in value of the VW brand post-Dieselgate delivered a devastating blow to dealers' profits and the value of their franchises
"Plaintiffs and the Franchise Dealer Class have invested millions, collectively hundreds of millions of dollars in the Volkswagen brand," the suit states. "But now the brand value has plummeted, sales of VW diesels have completely halted, and sales of all VW cars have plummeted."
The suit also alleges that VW forced dealers into a so-called "floorplan financial" scheme with VW-owned Volkswagen Credit.
"Pump and dump"
"For VW dealers – many of which are small, family-owned franchises – Dieselgate amounts to a classic 'pump and dump' operation, in which VW exploited the CleanDiesel eco-friendly market that it helped create, boosting the price of entry and continuation in the market for VW franchises," said Steve Berman, managing partner of the Hagens Berman law firm. "All the while, VW withheld information about the impending Dieselgate fiasco, and left dealers to fend for themselves as the scandal unfolded."
The suit says that just as consumers readily purchased what they thought were reliable, environmentally friendly vehicles, franchise dealers built new showrooms and purchased new facilities, while heavily stocking lots with CleanDiesel vehicles, based on VW's false marketing.
"Franchise owners are now left with lots full of CleanDiesel vehicles they are unable to sell, and these cars have suffered tremendous loss of value and take up inventory space and carrying costs," Berman added. "VW dealerships large and small have been at the mercy of an unethical corporation, much like the hundreds of thousands of owners across the country, and we believe it's time to take a stand for their rights."
---